The region's annual mega tech events – GITEX Technology Week and GITEX Future Stars – are back and will once again define the innovative ways that advanced technologies and the new generation will reshape the world.
To be held under the theme 'Synergising the Mind and Technology Economy', the 39th annual GITEX Technology Week and 4th GITEX Future Stars will focus on ways to optimise the immense potential in the relationship between next-generation technology and the power of human thought and creativity for augmented societal good, in an increasingly connected and digitised world.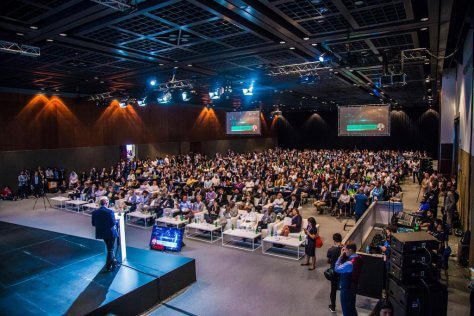 Set to take place at the Dubai World Trade Centre from 6-10 October 2019, GITEX Technology Week and GITEX Future Stars are expected to welcome over 100,000 tech enthusiasts and business leaders from 140 countries.
Among the heavyweights participating at this year's show are China Mobile, Ericsson, Honeywell, Nokia, Schneider Electric and Siemens, who will unpack developments around transformative and emerging technologies such as 5G, blockchain and AI.
Artificial Intelligence is set to be the nucleus behind all emerging technology, and will transform everything from government services, manufacturing and service industries, to every business that relies on customer interaction.
AI is expected to contribute almost 14 percent of the UAE's GDP by 2030, equivalent to $96 billion, and in preparation for this monumental shift, GITEX will unite AI global tech powerhouses to show how the world will be redefined by self-driving vehicles, intelligent robots and the world's smartest and most effective cybersecurity solutions.
The GITEX Artificial Intelligence Zone will feature five incredible days of non-stop free learning sessions, 10 Hours of INSEAD-powered AI Workshops and will cover the paradigm-shifting ways that AI is affecting agriculture, construction, procurement, marketing, factory automation and government.
The UAE has already set a marker down to be a world leader in AI, appointing the world's first Minister of State for Artificial Intelligence and launching the UAE Artificial Intelligence Strategy 2031, developments that already show the monumental impact that AI is having on the national economy.
World-renowned AI expert and GITEX keynote speaker Dr Ben Goertzel, Chairman and Chief Scientist of Singularity Studio, and CEO and Founder of SingularityNET Foundation, will reveal how AI will merge with blockchain to create deep value for businesses and society, increase human life expectancy and support medical research. Dr Goertzel is well-known in the technology world as the former chief scientist of Hanson Robotics, creator of social humanoid robot Sophia.
Meanwhile, GITEX Future Stars will spotlight the transformative impact of generation Z with the introduction of its NXG Stage.
The latest generation of digital natives, Gen Z are at the forefront of the digital economy, with a buying power of $44 billion. With 60 percent of the MENA region population under the age of 25, GITEX will provide a platform for the future's technology leaders, developers and consumers on the dedicated Gen Z stage.
Featuring some of the most influential and successful members of Gen Z in the world – including Akshay Ruparella, the 19-year-old founder and MD of Doorsteps.co.uk, and Benjamin Stern, creator of a waste-free shampoo tablet in his teens, securing investment on hit US TV show Shark Tank – the Gen Z stage promises to show visitors how to cater to a tech-obsessed generation.
GITEX Future Stars will also see The Government of Abu Dhabi looking to make its mark on the event, with the Emirate's hottest innovation prospects, including Hub71, Abu Dhabi Global Market (ADGM), Start AD, Krypto Labs, Department of Health Abu Dhabi, all aiming to put Abu Dhabi on the map as the innovation hub of the future.
Abu Dhabi has pledged AED 535 million into Hub71, a new initiative supported by Mubadala Investment Company, Microsoft, SoftBank Vision Fund and Abu Dhabi Global Market (ADGM), to attract startups to set up shop in the UAE capital.
GITEX Future Stars will give startups the chance to pitch their ideas against one another across a packed agenda of competitions. The GITEX Future Stars Supernova Challenge will be spread across 11 categories, including the NXG category, awarding the latest innovation from a Gen Z startup.
The Supernova Champion will take home $ 100,000, with each sub-category featuring a $10,000 prize. There will also be innovation competitions from the Department of Tourism and Commerce Marketing in partnership with Accenture, and Department of Health Abu Dhabi.
After a pre-selection process in Paris, London, Milan and Moscow to find the most innovative tech ventures, Chalhoub Group's The Greenhouse retail tech startup challenge will see startups compete at GITEX Future Stars to win the title of the best creative economy startup.
"GITEX Technology Week is an international confluence of the greatest minds in technology, global business leaders in the industry and rising stars from the tech ecosystem. GITEX Future Stars has already built a reputation as the definitive platform in the Middle East and North Africa for startup content, and this year will spotlight just how Gen Z will define our future," said Trixie LohMirmand, senior vice president, Events and Exhibitions, Dubai World Trade Centre.
The 39th edition of GITEX Technology Week and the 4th edition of GITEX Future Stars are also set to feature all-new sections on Lifestyle Tech and Future Mobility – trends which will embody a world of ubiquitous devices and driverless, next-generation transport.