Artificial intelligence (AI) has increasingly become an integral part of everyday life, whether it's for automated driving, smart home solutions or manufacturing.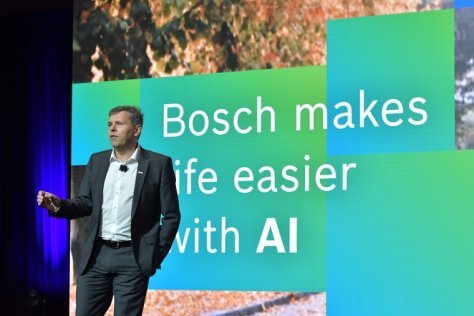 As part of its drive to make life easier for people and as safe as possible, Bosch is maximising technologies such as uses AI and the Internet of things (IoT) to develop new innovations. With the slogan, "Beneficial AI. Building trust together," Bosch seeks to focus on safe and robust AI for the manufacture of smart products, which the company will be showcasing at this year's CES.
One of these products is the Virtual Visor, an AI-based digital vehicle sun visor that will be making its debut at the world's largest trade fair for consumer electronics. The product has also won a CES Innovation Award, as has Bosch's 3D display for the car.
Other Bosch AI highlights at the show include an application for predictive maintenance of the International Space Station, a system for monitoring vehicle interiors, and a smart platform for medical diagnostics. "The solutions we're showcasing at CES make it clear that Bosch aims to become an innovation leader in AI as well," said Bosch management board member Michael Bolle. "As of 2025, every Bosch product will either contain artificial intelligence or will have been developed or manufactured with the help of AI." The global market volume for AI applications is expected to be around 120 billion dollars over that same period, a twelvefold increase compared to 2018.
Bosch wants to tap into that potential: the company already invests EUR 3.7 billion ($4.1 billion) each year in software development, currently employs more than 30,000 software engineers, and has 1,000 associates working on AI.
In addition, Bosch has established a comprehensive training programme. "We plan to make nearly 20,000 associates AI-savvy over the next two years," said Bolle. "We must invest not only in AI, but in human intelligence as well."
The programme includes training formats at three different levels for managers, engineers, and AI developers and includes guidelines for using AI responsibly. To that end, Bosch has drawn up its own set of AI principles that address issues of AI security and ethics. With this in combination with its expertise, the company intends to build trust with customers and partners alike.
"Anyone who has internalised technical and ethical principles knows how important data security and sovereignty are. In a way, trust is the product quality of the digital world," said Bolle.
Bosch invests 100 million euros in an AI campus
In addition to spending on software development, Bosch is investing worldwide in people and in competence centres. For example, the company is investing EUR 100 million ($ 111 million) in the construction of a new AI campus in Tübingen, Germany. The move into the new research complex is planned for the end of 2022. It will then offer some 700 AI experts space for creative and productive exchange. These experts come from Bosch, external startups, and public research institutions.
The new campus should strengthen exchange among experts in Cyber Valley. "Building trust together" will be a living reality there. Bosch is a founding member of Cyber Valley, which was established in 2016. This joint research venture brings together partners from industry, academia, and government to drive forward AI research and quickly transfer research findings into real-world industrial applications.
In addition, the Bosch Center for Artificial Intelligence (BCAI) operates at seven locations worldwide, including two in the U.S.: in Sunnyvale, California and Pittsburgh, Pennsylvania. The BCAI currently has a total of some 250 AI specialists working on more than 150 projects in the domains of mobility, manufacturing, smart homes, and agriculture.