IT leaders responsible for devising strategies aimed at helping their companies adapt to the challenges presented by emerging technologies were celebrated at CPI Media Group and TahawulTech.com's CIO 100 Awards last night.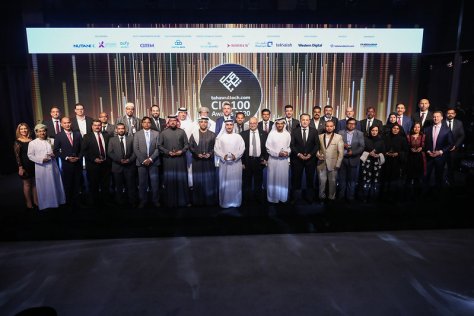 The night was a wonderful success and the glitzy event took place at Rixos Premium JBR, which were attended by the region's most influential IT decision-makers and technology thought-leaders.
The CIO 100 Awards, which is hosted by CPI Media Group, are one of the most coveted award ceremonies in the IT industry in the Middle East.
Natasha Pendleton, Publishing Director at CPI Media Group explained the process behind selecting the CIO 100 award winners.
"The CIO 100 Awards is now one of the most highly regarded and respected awards in the entire IT ecosystem, we were rather inevitably inundated with nominations. However, our editorial team carefully worked our way through all the nominations to select those that we believed had displayed and illustrated outstanding digital leadership," said Pendleton
Mark Forker, Editor of CNME outlined how the role of the CIO has evolved due to the advent of new technologies that have disrupted major industries.
"In this era we've labelled as Industry 4.0, the role of the CIO has evolved. CIOs are now tasked with the responsibility of creating a culture that supports their company's digital transformation efforts. The traditional CIO has now been replaced by the 'transformational' CIO," said Forker.
In addition to this, he highlighted how we're now at the beginning of a new decade that promises to bring yet more technological revolution and challenges.
"In the next decade, technologies such as 5G, AI and blockchain will move from concepts to reality. These technologies will be viewed as key drivers for businesses to generate new revenue streams, and it will be the CIO that will be directing the company's strategic approach in order to ensure it can seize the opportunities these new tech trends offer," he added.
Here is the list of CIO 100 Award Winners: 
| | |
| --- | --- |
| Abdalla Al Ali, Dubai Multi Commodities Center (DMCC) | Major Khalid A BinMediya Al Falasi, GDRFA |
| Abdulrahman Al Harbi, Zain Payments Limited | Khawla Jarrah, Ras Al Khaimah American Academy For Girls |
| Abdulla Alowais, Government of Sharjah Directorate of Human Resources | Madhu Suthan, BAHRI & MAZROEI GROUP |
| Abdullah Alshamsi, Dubai Aviation Engineering Projects (DAEP) | Dr. Manoj K Menon, Spotcheck Wellness Services |
| Dr. Abeer Shakeer, The Minister of Communications and Information Technology | Mahmoud A. Kamal, Habtoor Hospitality |
| Adel Abo Elnour, Ministry Of Housing | Mamoun T. Alhomssey, Abu Dhabi Islamic Bank |
| Aditya Kaushik, Adyard Abudhabi | Manish Bindra, Galadari Brothers Co. |
| Ahmed Al Ahmad, Nakheel | Manoj Ramachandran, Royal Group |
| Ahmed Salim, Sharjah Islamic Bank | Mario Foster, Al Naboodah Group Enterprises |
| Akshay Lamba, Deloitte & Touche (M.E.) | Meshal Abdulla BinHussain, Ministry of Finance |
| Ali Ahmed Al Naqbi, Sharjah Economic Development Department | Mohamad Al Ameri, Abu Dhabi Executive Council |
| Ali Al Lawati, Ooredoo Oman | Mohamed Hamed, Ceramica Platino Group |
| Ali Mohamed Al Ali, Department of Health Abu Dhabi | Mohammed Abu Zaid, Insurance Authority |
| Ali Saleh Al Ali, Etihad Credit Insurance Company | Mohammed Al Ali, NQA |
| Aliakbar Patwa, NRS Relief | Mohammed Mudasar, Bluestone Capital Investments |
| Aliasgar Bohari, Zulekha Healthcare Group | Dr. Mohamed Jumah Rahmah, DP World |
| Ameena Abdul Raheem, Engineering Office | Mubarik Hussain, Bloom Holding |
| Amr Fathy, Etisalat Egypt | Muhammad Junaid Budhani, United Al Saqer Group |
| Anindo Banerjee, Meraas Holding | Muhannad Abu Hassan, Ministry of Education |
| Antony Vimal, Emirates Specialty Hospital | Muna Abdullah Al Falasi, The Executive Council |
| Anup Das, BYRNE Equipment Rental | Mustansir Aziz, Gulf Diagnostic Center Hospital |
| Arnab Debroy, Metito Overseas | Dr. Mustafa Hassan Qurban, King Fahd Military Medical Complex |
| Arul Jose Vigin, DIFC Courts | Dr. N. Verma, Dr. Soliman Fakeeh Hospital Company, KSA |
| Arun Tewary, Emirates Flights Catering | Nadia Obaid Al Qabanji, Zayed University |
| Ashith Piriyattiath, Regulus Capital | Najib Dalank, ALEC |
| Bilal Hasan, DULSCO | Nitin Bhargava, Mashreq Bank |
| Esam Khamees Alfalasi, Ministry Of Economy | Partha Banerjee, Safeer Group Of Companies |
| Col Faisal Al Kaabi, Ministry of Defense | Paul Robert Bogan, SERCO Ltd Dubai Branch |
| Faisal Ali, Daman Investments | Prasanna Hulmane T.V. – University Sharjah Hospital |
| Farid Farouq, DWTC | Praveen Sashi, DHL EXPRESS |
| Fatima Ahmed Ali Bin Haider, Dubai Public Prosecution | Qasim Nadeem, ABANA Enterprises Group |
| Fayaz Ahmed Badubhai, Al Yousuf Group | Rami Alhaddad, National Aviation Services |
| Frank Watts, Al Tayer | Riyad Salah, Sharjah Taxi and Rafid Automotive Solution |
| Fuad Al Ansari, ADNOC Refining | Ronald Dsa, OSN |
| Ghinwa Baradhi, HSBC Bank Middle East Limited | Saleem Alblooshi, Emirates Integrated Telecommunications Company (du) |
| Girish S Varote, Abu Dhabi Health Data Services SP | Sanjeev Mulay, First Abu Dhabi Bank |
| Hamdy Al Sherif, Dubai Chamber of Commerce | Sayed Rahman, Sharjah Electricity and Water Authority |
| Hashim Saeed, Union Properties | Sebastian T. Samuel, AW Rostamani Group |
| Hessa Obaid Al Suwaidi, Department of Infrastructure Development | Shafique Ibrahim, Al Fardan Exchange |
| Ibrahim AlNajjar, DP World | Shailesh Mani, Flemingo International Limited |
| Dr. Ibrahim Humaid Almayahi, Ministry Of Interior | Shumon Zaman, Lamprell Energy |
| Jaicil Mohammed, Portingx Technology | Sreedhar Reddy, ALDAR |
| Jasem Al Ali, Ministry of Justice | Sreedhar Suragouni, Oman Insurance Company |
| Jassim Haji, Artificial Intelligence Society Bahrain | Sultan Al Owais, Prime Minister's Office |
| Jayesh Maganlal, Majid Al Futtaim Properties | Tamer Hamed, DUCAB |
| Joseph Aninias, Abu Dhabi University | Umesh Moolchandani, Bin Dasmal General Trading Co. |
| Juma Al Ghaith, Dubai Customs | Wesam Lootah, Dubai Smart Government |
| Khalfan Matar Al Hassani, Monitoring and Control Centre | Yasser Sharaf, Raya Contact Center Egypt |
| Brigadier Khaled Alrazouki, Dubai Police | Dr. Yousef Al-Hammadi, Abu Dhabi Special Olympics |
| Khalid Jalal, Gulf Aluminium Rolling Mill B.S.C. (c) | Yuri Misnik, First Abu Dhabi Bank |