Contactless payments such as mobile wallet transactions have risen in hypermarkets across the region by 78 percent in Q1 2020 when compared with the same period a year ago, according to recent industry reports.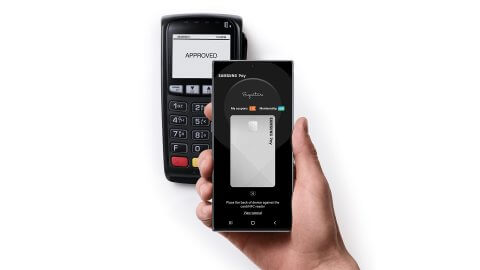 In line with this growing trend, Samsung Gulf Electronics is encouraging UAE consumers to switch to safer alternatives such as mobile wallets to minimise potential hygiene issues while making purchases in stores.
Samsung Pay, the brand's mobile payment service, offers customers a convenient way to purchase anything through contactless payments in every corner of the country safely and securely.
The service aligns with this consumer trend and can be used to make safe, quick, and easy purchases from almost any location.
Mohammad Gharaibeh, head of Enterprise, Mobile Business at Samsung Gulf Electronics, said, said, "More and more customers are opting to use mobile wallets for daily purchases, thanks to the speed, convenience, and safety of contactless payment. As well as minimizing risk during uncertain times, Samsung Pay is customized to meet the needs of users in the UAE."
Affiliated with major payment networks such as MasterCard and Visa, Samsung Pay provides greater flexibility, access, and choice for customers while ensuring a safe and straightforward payment experience.
Philip King, ADIB Global Head of Retail at Abu Dhabi Islamic Bank (ADIB), said, "We strive to deliver the best experiences to our customers. With the rapidly evolving global situation and a surge in contactless payment popularity, we recognize the potential of Samsung Pay to provide superior convenience and security as users make payments with a mobile wallet solution that is simple, secure, and available almost anywhere."
Suvo Sarkar, senior executive vice president and group head, Retail Banking and Wealth Management, Emirates NB, said, "As a front-runner in contactless banking solutions, Emirates NBD was among the first in the UAE to offer customers the convenience, flexibility and security of mobile wallets and we remain committed to supporting widespread adoption of Samsung Pay. Transactions using Samsung Pay have witnessed a tenfold increase among our customer base following its UAE launch about three years back, and the service continues to gain traction as more people experience the benefits of contactless payment methods, even more so during the ongoing situation."
Joyseej Mukherjee, head of PBG Cards & International Special Projects, First Abu Dhabi Bank (FAB), said, "In these uncertain times, consumers increasingly appreciate the peace of mind offered by contactless payments for everyday transactions, and Samsung Pay is playing a key role in this regard. Looking ahead, a digital wallet designed for everyday life will help unlock a cashless future, ensuring the security of contactless payments and providing convenient checkout experiences."
By combining Near Field Communication (NFC) technology and its proprietary Magnetic Secure Transmission (MST) technology, Samsung Pay works seamlessly on most point of sale terminals in the UAE.