DarkMatter Group has unveiled KATIM R01, which it dubs as the "world's first ultra-secure smartphone" designed to withstand extreme field conditions.
"We combined our expertise in secure communications with everything the mobile market expects in a handset, including a great user experience. Then we challenged the brightest minds in the industry to create a rugged design to withstand extreme field conditions experienced by defence, emergency services, and the construction, mining, transport, energy, oil and gas industries," said Karim Sabbagh, CEO of DarkMatter Group.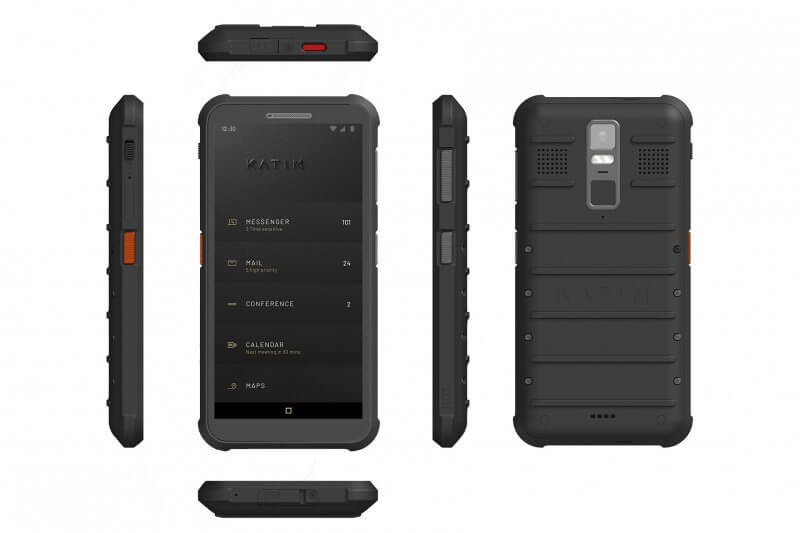 Designed, vetted and tested by DarkMatter's engineers in the UAE, Finland and Canada, KATIM R01 combines premium looks with powerful technology, wrapped in a unique rugged design. It's the latest in the Company's end-to-end secure communications solutions ranging from devices to back end services, and a full secure suite of applications based on custom and quantum-resistance cryptographic protocols.
The KATIM, according to DarkMatter, features the strength and rigidity delivered by five layers of hardened case, designed to meet two military standards for harsh field conditions.  Equally at home on a construction site or an oil field, KATIM R01 can handle being dropped, run over and immersed in water for 30 minutes.
It sports an in-built barometer, temperature and humidity sensors optimize endurance and durability for vibration, water, dust, altitude and extreme temperatures. Faced with an emergency situation when fast decision-making is critical, KATIM® R01 delivers messages sent with GPS coordinates, with a dedicated SOS button and touch screen that is accurate with gloved and wet hand operation.
The KATIM RO1 has a range security features separate communications and data from the outside world. It uses advanced active physical and real-time monitoring to instantly detect intrusions and wipes the phone to protect the user's data. For highly confidential discussions, SHIELD MODE securely cuts off microphones and cameras while still powered on and online.
"We believe in a world where smart and safe mobile security secures nations and businesses. We're a young company in a vibrant part of the world with the energy and a big ambition to innovate and push the boundaries. KATIM R01 delivers unbreakable security and the same great user experience, no matter where you are.  In a world that never stops, it's tough, it's rugged and it's ready for anything," Sabbagh added.
The KATIM range includes the KATIM phone, KATIM OS, KATIM Apps: Messenger and Email, and the KATIM Command Centre.