DVCOM has been showcasing an array of new solutions at GITEX, offered through a number of its key partner organisations in the UAE.
The DVCOM stand at GITEX also highlights the company's shift into the managed service space, for which it is demonstrating a number of cutting-edge solutions.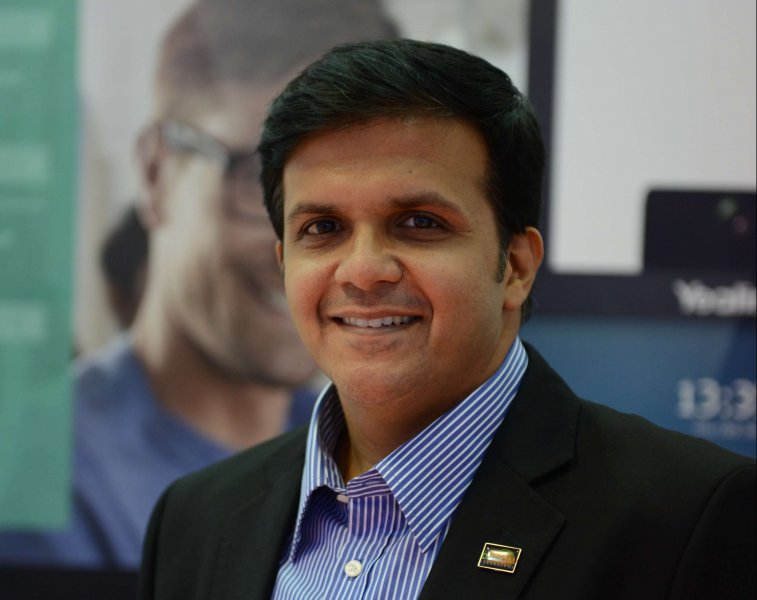 "Gone are the days when it's just product selling. It's more of solution selling. We're now focusing more on managed services, cloud-based managed services," said Renjan George, DVCOM's managing director.
With offices in the UAE, Saudi Arabia, Kuwait, Oman, Bahrain, Sudan and India, DVCOM is a specialist value added distributor (VAD) representing a host of top ICT vendors and solutions in the Middle East.
Areas that it covers range from audio-visual conferencing to physical security, networking and unified communications.
Among the many top vendors that it represents are Milesight, QueueMetrics, Xcally, Yealink, CyberData and Yeastart. Solutions offered range from segments such as security, to the call centre market and open source.
DVCOM has been taking part in GITEX for more than a decade and George said it was a key event for the company.
"Our main focus is first to stimulat our relationship with the vendors and partners. We can get most of our vendors and partners under one roof," he said.
AT GITEX, DVCOM is presenting solutions from a number of its sponsoring vendors, among them Yealink, which has a recently launched audio and video device for Microsoft Teams.
"This is certified for use with Microsoft Teams, the latest version of Microsoft for communication. That's something we're launching here at GITEX for Yealink," said George.
DVCOM has just entered into a relationship with a new vendor, Newline Interactive, which offers interactive touch screens and unified communications/collaboration devices. A unified display unit is being shown off at GITEX.
"What's unique about the display is that it comes with optical bonding and InGlass Technology, enhanging your tech experience," explained George.
These devices are known for their high touch sensitivity as well as their impressive visual experience.
Yeastar's appliance-based PBX (private branch exchange) is another solution DVCOM has been presenting at this year's show.
"This can support anything from 20 users to 2,000 users," said George. "What's new is that this year the cloud servers are being introduced. You have a mobile app a desktop app, it helps mobility.
"You can have your PBX running up from the cloud, so there is minimal hardware On Premise."