TahawulTech.com Future Security Awards celebrated and recognised accomplishments in the regional IT security landscape.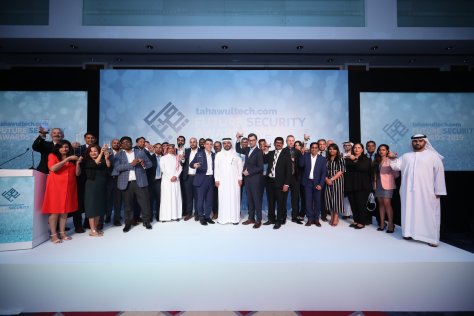 The Future Security Awards kicked off at the Jumeirah Emirates Towers in Dubai and recognised individuals and organisations who have shown dedication and leadership in building the foundation of a digital future with security innovation.
The 2019 edition of Future Security Awards ceremony was attended by 200 industry stalwarts, and honoured 23 organisations and IT security leaders.
Future Security Awards received over 150 nominations from both end-user and vendor categories.
As businesses across the globe fast-track their digital transformation strategies, IT leaders are striving to enable their organisations securely leverage the latest technologies to stay ahead of competition.
Without a doubt, technology is reshaping businesses in numerous ways. And, increasingly, organisations that are embarking on their digital transformation journey are recognising that security is vital to the future success of this journey.
TahawulTech.com and Security Advisor Middle East congratulate this year's winners and applaud them for setting the bar high for security's role in the digital era.
Here's the full list of this year's winners:
| | |
| --- | --- |
| VENDOR and VAD CATEGORIES | WINNERS |
| Best AI Security Innovator | Hikvision |
| Best Anti-DDoS Vendor | Cloudflare |
| Best Cloud Security Vendor | ManageEngine |
| Best Cybersecurity Distributor | Westcon-Comstor |
| Best Cybersecurity Training Provider | CertNexus |
| Best Disaster Recovery Solutions Provider | Mimecast |
| Best Endpoint Security Vendor | Crowdstrike |
| Best Internet of Things Security Vendor | Fortinet |
| Best Managed Detection and Response Service Provider | Security Matterz |
| Best Managed Security Services Provider | Help AG |
| Best Network Security Vendor | Corelight |
| Best Security Automation Solutions Provider | Raqmiyat |
| Best Security VAD | Bulwark Technologies |
| Best Digitalisation & Cybersecurity Provider | TÜV Rheinland |
| Best Smart Home Security Vendor | D-Link |
| Best Unified Threat Management Vendor | Sophos |
| Innovative Security Product of the Year | VNS Technologies |
| Security Transformation Catalyst Award | emt Distribution |
| AI-Driven Managed Detection and Response Service Provider | Paladion Networks |
END-USER CATEGORIES
| | |
| --- | --- |
| Top CISO/CSO of the Year | Khalfan Matar AlHassani, Abu Dhabi Monitoring & Control Centre |
| Most Outstanding Security Team | Abu Dhabi Ports |
| Best AI Security Project of the Year | Dubai Police |
| Best IT Security Project of the Year | DIFC |