GITEX Technology Week and GITEX Future Stars are ready to throw open the door to the future as the 2018 editions of the mammoth global tech events gear-up to offer a hands-on exploration of the digital tech set to transform how we live.
From emergency-service rescue robots, through VR for the workplace, to the intelli-tech allowing entire cities to be run by Artificial Intelligence (AI), GITEX Technology Week – taking place at the Dubai World Trade Centre, October 14-18 – is inviting visitors to 'Experience Future Urbanism' at a show buzzing with the unveiling of both cutting edge soft and hardware which developers say will realign everything we know about travel, work and play.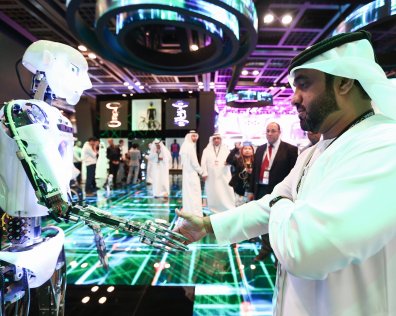 The five-day tech summit is held side by side with GITEX Future Stars (October 14-17); the MENA region's hottest platform for bringing award-winning 'techpreneurs' to investors, where over 850 international startups will have the chance to meet more than 1,500 investors and corporate buyers.
Think products that are beyond reality: AI that can interpret emotion through voice (Empath Inc) or predict fashion trends (Stylumia); a wearable, real-time translation earpiece (Timekettle); or even Healthcare firm Bioniks, who have amalgamated robotics and 3D printing to create Iron Man style prosthetics. Developers of space tech will also be involved, shooting for the stars in the Mohammed Bin Rashid Space Centre's Innovation Cup – one of four industry-sponsored Innovation Cups.
With 5,000+ firms from more than 100 countries exhibiting over 1.4 million square feet of floor space, GITEX Technology Week and GITEX Future Stars will welcome more than 100,000 visitors when they get underway next month.
Trixie LohMirmand, Senior Vice-President Events Management at the Dubai World Trade Centre, said, "Advances in digital, communication, and even biological technologies aren't just transforming the way we interact with each other, they are fundamentally shaping how we experience the city around us.
"This year, under the theme of 'Experience Future Urbanism', GITEX Technology Week will showcase how new innovations and solutions can enrich the level of human, economic and cultural development of our world, both individually and collectively."
Artificial Intelligence will take centre stage at GITEX Technology Week 2018, with more than 100 companies from over 25 countries showcasing AI-led tech – an almost 50 percent increase on 2017. Visitors will be able to experience innovations from Dubai Police, Smart Dubai, Etisalat and Microsoft – already key players in a market forecasted to be worth $1.4 billion by 20252 – at the MENA region's biggest ever AI gathering.
At the show, Huawei will both unveil its own AI strategy and host GITEX's first ever 5G ecosystem conference, demonstrating how 5G stands at the crux of enabling everything that Dubai wants to do – from smart cities to driverless cars
SAP will use the show as a launchpad for its 'Future of Intelligent Living' suite that incorporates AI, Predictive Analytics, Machine Learning and IoT (Internet of Things); while Japanese giant, Fujitsu, will have an exclusive reveal of their latest AI offering.
Leading discussion on the subject will be Wanli Min, Chief Machine Intelligence Scientist at Alibaba, who will dissect how his incredible City Brain software made Hangzhou, China, the world's first city to manage its entire public service delivery through AI – a system that has since reduced traffic wait time by 15 percent and can allow emergency responders to react within one second of an accident taking place.
Amazon's Vice President for Global Innovation Policy and Communications, Paul Misener will also be among the keynote speakers at the show.
As Amazon has grown from a startup to what it is today, it has maintained its core principles and ability to innovate and, relatedly, its willingness to experiment and to fail.  An Amazon VP for over 18 years, Paul will cite examples to illustrate how the company has sustained customer-focused innovation and will offer ways in which other organizations can try Amazon's methods for innovation.
GITEX will host more than 50 targeted AI seminars, lasting 30+ hours.
Furthermore, when it comes to Immersive Tech, GITEX Technology Week will change the way visitors view the world with its live interactive section. The Virtual Reality gaming industry alone is expected to be worth $4.4 billion by 2022, with this technology set to be the GCC's next billion-dollar industry. From VR headsets, to AR tools used in live surgery, GITEX exhibitors will demonstrate how a new view of reality can change lives and businesses.