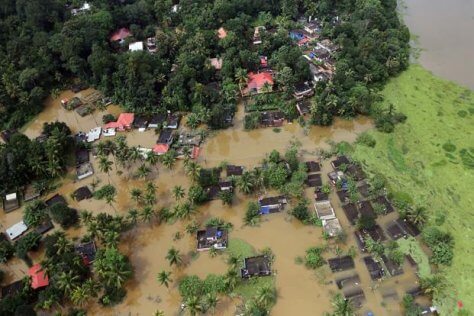 India's southern state Kerala is in the midst of one of the worst floods in 100 years. According to media reports, relentless torrential rains have taken over 350 human lives, leaving behind unimaginable devastation in its wake.
To help the affected areas and people during a time when information can be limited, tech companies have come together to offer assistance through tracking tools.
Technology giant Google has activated Person Finder tool for Kerala. This allows users to track people who are missing. It also enables users to include information about someone they have found, who was displaced from their home and family.
All information entered into this site can be publicly accessed and the company has stated that it does not review or verify the accuracy of the data provided.
Our thoughts are with those in Kerala. Help track missing people with #personfinder: https://t.co/8EECLFpCqv #KeralaFloods pic.twitter.com/mo9VM3Uph4

— Google India (@GoogleIndia) August 16, 2018
The tech firm has also pin-dropped a list of centres providing rescue operations, offering shelters, food and clean drinking water, medicines, ambulance services, transport and other essentials, according to a report by Firstpost.com. Each category is marked with a separate icon for easy identification and is updated statewide.
Facebook has activated its safety check feature for Kerala. This is a feature that the company activates for a calamity-hit location. Users can use this feature to let family and friends know that they are safe. The social media firm has also created a crisis response page to feature news and video from public and media sources related to the flooding.
According to a report in News18.com, Qkopy is a Kozhikhode-based social networking app released earlier this year. The report said Qkopy is playing a critical role in "getting information out to people stranded in the still flooded parts of Kerala or attempting to know about the current status of flooding, waterlogging and traffic movements, for instance."
Users simply have to save the Kozhikode City Traffic Police phone number (0091 9497975656) in their phones, open the Qkopy app to access the phone's contacts. The app will then send instant updates as shared by the police, said the report.
Amazon India has also introduced Amazon Cares: Contribute to Kerala Flood Relief website. The firm has joined hands with three NGOs – the Habitat for Humanity, World Vision India and Goonj to make it convenient for people to donate required essential products to relief camps. Each NGO has listed essential products from Amazon's product inventory and users can shop like one normally would. The company along with the NGOs will coordinate to ensure the items are delivered to relief centres.
Additionally, Facebook and Twitter posts and updates along with WhatsApp groups have played a crucial role in disseminating information quickly to flood-hit victims and relatives. Numerous calls for help on social media have alerted rescue teams and helped them to reach victims in time.