Huawei Saudi Arabia launched its new HUAWEI Mate20 smartphone series in the Saudi market.
The launch was held in a ceremony in Riyadh, attended by a mass of media representative and social media influencers from all over the Kingdom.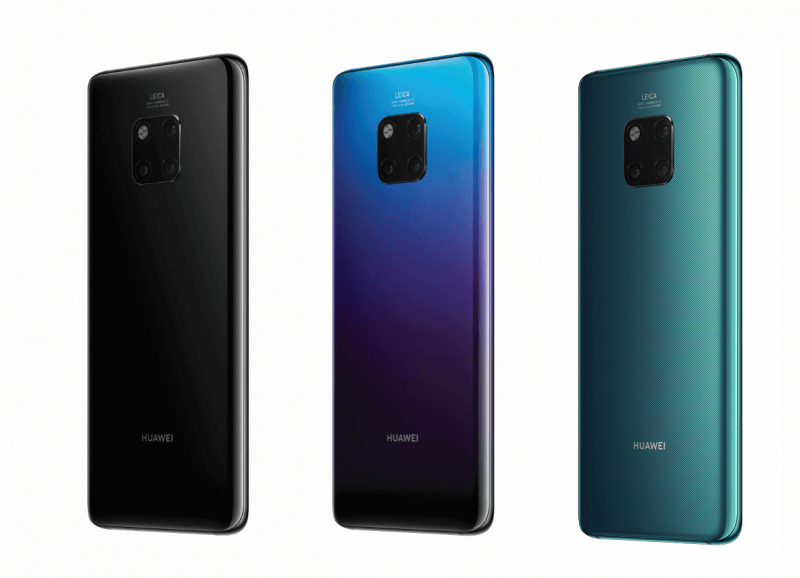 Pablo Ning, Vice President of Huawei Saudi Arabia, highlighted the success of becoming the second largest smartphone maker in the world. Technical expert Faisal AlSaif demonstrated the advanced features of the HUAWEI Mate20 series, highlighting their latest technologies. As for the advantages of photography and the high-definition camera, professional photographer Hussein Daghreiri explained the advantages the HUAWEI Mate20 Pro smartphone camera offers, describing it as "not only accurate but also supported by artificial intelligence. The new series of phones is supported by Kirin 980 processor, which is supported by a Dual Artificial Intelligence feature.
The System-on-a-Chip at the core of the smartphones has a determining factor in a device's performance and efficiency. Manufactured with the 7 nanometer technology process, the SoC fits 6.9 billion transistors within a die the size of a fingernail. Compared to Kirin 970, the latest Kirin 980 chipset is equipped with CPU that is 75 percent more powerful, GPU that is 46 percent more powerful and NPU that is 226 percent more powerful. Furthermore, the efficiency of the components has been increased: the CPU is 58 percent more efficient, GPU is 178 percent more efficient, and the NPU is 182 percent more efficient. Kirin 980 is the world's first commercial SoC to use the Cortex-A76-based cores. It is also the industry's first SoC to be equipped with a Dual Neural Processing Unit, granting it higher On-Device AI processing capabilities to support any and all AI applications.
Huawei takes pride in being a pioneer in On-Device Artificial Intelligence, shaping the evolution of smartphones into intelligent tools that understand users in order to assist them. Through innovative features such as Dual-NPU, and the groundbreaking Reverse Charging the will be capable to transforming the phone into a wireless charging unit to charge other phones.
The HUAWEI Mate20 Series also features an AI Portrait Color video mode. Using AI, the HUAWEI Mate20 Series can isolate human subjects and desaturate the colors around them to dramatically highlight the person. AI Spotlight Reel identifies clips with a shared theme and auto-generates a montage, made entirely of highlights.
HUAWEI Mate20 Pro is equipped with a 40MP main camera, a 20MP ultra wide-angle camera, and an 8MP telephoto camera. Together, the trio of lenses supports a wide range of focal lengths enabling it to mimic the results from professional cameras. This wider perspective creates a sense of spaciousness and a three-dimensional effect to the images. The new camera system also supports macro distance, which produces crisp images of objects that are laces as closed as 2.5 cm from the lens.
The top-end flagship also supports dual-band (L1+L5) GPS positioning technology. The AI GPS Satellite Selection technology enhances the positioning accuracy across a wide range of scenarios.  As well as HUAWEI Share 3.0 delivers a revolutionary improvement in device interconnection, allowing users to transfer files between smartphones and PC.
Besides superb performance, the HUAWEI Mate20 Series also features groundbreaking improvement on battery life. It houses a large, high-density 4200mAh battery for HUAWEI Mate20 Pro and 4000mAh battery for HUAWEI Mate20, and supports 40W HUAWEI SuperCharge, the fastest wireless charger in the world which gives the device 70 percent charge in 30 minutes. The safety of the technology is certified by TÜV Rheinland.
HUAWEI Mate20 Pro comes with an OLED screen of 6.39 inches in diameter, with an inside fingerprint. It comes with 128 GB of built-in storage, 6 GB of random memory and multi-color black, emerald green and Twilight's exclusive color at SAR 3,299, while HUAWEI Mate20 offers a 6.53-inch screen, 128 GB of built-in storage, 6 GB of random memory, at SAR 2,399 in other unique colors: black, midnight blue and elegant Huawei Twilight. The HUAWEI Mate20 smartphones will launch in Saudi Arabia on November 8th, 2018.