Ramping up its global technology ecosystem, Huawei's Enterprise Business Group (BG) recently announced a new partner development strategy named "Profitability, Simplicity, Enablement, and Ecosystem" under which it will cooperate with global partners in supporting digital transformation programs. By the end of 2019, Huawei had more than 22,000 Sales Partners, 1200 Solution Partners, 4200 Service Partners, 1000 Talent Alliance Partners, and 80 Investment & Operation and Financing partners.
Frank Shen Surong, Vice President of Partners & Alliances, detailed how in 2020 the company's new enterprise partner ecosystem will increase support in several areas.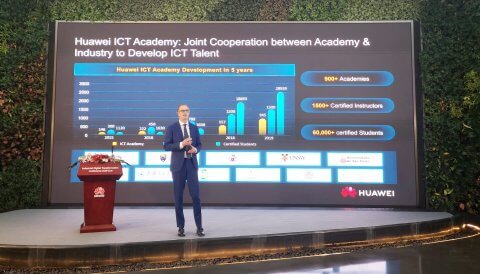 In terms of partner profitability, in 2020 Huawei Enterprise BG will maintain the channel partner incentive framework's stability, and expand the scope of partner incentivised products to include standalone software as well. Diversified special incentives, such as capability rebates and Business Incentive Program (BIP) will be introduced to motivate partners to pursue more ambitious goals.
Driving greater simplicity, Huawei Enterprise BG will release a list of products that partners can get rebated to improve policy transparency, and make incentive eligibility clearer. It will allow partners to independently apply for and accept Marketing Development Fund (MDF) to accelerate the execution of marketing activities, and make Huawei Enterprise BG 's entire business process visible to partners.
For enablement, Huawei will launch Huawei Certified Pre-sales Professional (HCPP) certification for IP and storage products to help partners gain in-depth knowledge about relevant products and acquire practical skills. Huawei Enterprise BG has also extended the availability of Marketing Development Fund (MDF) and Joint Marketing Fund (JMF) to support global partners, solution partners, and carrier partners in their business development.
Hank Stokbroekx, Vice President of Enterprise Service at Huawei Enterprise BG, also announced the Huawei ICT Academy Program 2.0 to develop two million ICT professionals and popularise digital skills over the next five years by collaborating with universities. This is part of Huawei's digital inclusion initiative, TECH4ALL. Huawei will set up the Huawei ICT Academy Development Incentive Fund (ADIF), with a total investment of at least US$50 million over the next five years.
Huawei's new partner and ecosystem programs will be supported by continued technology innovations. The company recently announced that it will build a new wireless communications product factory in France, for example, to specialise in 4G and 5G equipment. This past month Huawei also released its new Intelligent Data Center Service Solution to help customers design, build and operate high-reliability, green and intelligent data centres. With the aid of AI, the Power Usage Effectiveness (PUE) can be reduced by 8%-15%.