In his IFA 2018 keynote titled "The Ultimate Power of Mobile AI", Huawei Consumer Business Group CEO Richard Yu introduced the Kirin 980.
The new system on a chip (SoC) will bring about the next evolution of mobile AI, according to Yu.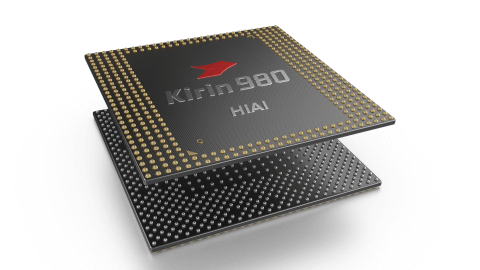 As the world's first commercial SoC manufactured with Taiwan Semiconductor Manufacturer Company's (TSMC) 7nm process, Kirin 980 combines best-in-class performance, efficiency, connectivity features, and Dual NPU AI processing power.
"Last year, we showed the world the potential of On-Device AI with the Kirin 970, and this year, we've designed an all-round powerhouse that not only features outstanding AI capabilities, but also brings cutting-edge raw performance to consumers," said Yu.
"Equipped with all-new CPU, GPU and Dual NPU, the Kirin 980 is the ultimate engine to power next-generation productivity and entertainment applications."
The TSMC 7nm process technology enables Kirin 980 to pack 6.9 billion transistors within a 1cm2 die size, 1.6 times of the previous generation. Compared to the 10nm process, the 7nm process delivers 20 per cent improved SoC performance and 40 per cent improved SoC power efficiency.
The Kirin 980 is also the first SoC to embed Cortex-A76 based cores, which are 75 per cent more powerful and 58 per cent more efficient compared to their previous generation The Kirin CPU subsystem uses an intelligent Flex-scheduling mechanism that creates a 3-level energy efficiency architecture consisting of two super-big cores based on Cortex-A76, two big cores based on Cortex-A76, and four little cores Cortex-A55.
Running at higher clock speeds compared to the prior generation, Kirin 980 enables quicker app launch times, better multi-tasking and a generally smoother user experience.
Huawei has integrated the Mali-G76 GPU into the Kirin 980 to deliver unparalleled gaming experiences. The Mali-G76 features a clock boosting technology that utilizes AI to intelligently identify gaming workloads and adjust resource allocation for optimal gaming performance.
The latest Kirin SoC represents a new era of On-Device AI. The Dual NPU Kirin 980 elevates the On-Device AI experience with greater processing power and intelligence. The synergy between the Dual NPU results in an image recognition capability that is greater than the sum of two—the Kirin 980 can recognize up to 4,500 images per minute, up 120 per cent compared to Kirin 970, further demonstrating Huawei's industry leadership in the On-Device AI space. Additionally, Kirin 980 supports common AI frameworks such as Caffee, Tensorflow and Tensorflow Lite, and provides a suite of tools that simplifies the difficulty of engineering On-Device AI, allowing developers to easily tap into the leading processing power of the Dual NPU.
To deliver the best connectivity to users of Kirin 980-powered devices, Huawei integrated the world's first modem supporting LTE Cat.21 with a peak download speed of 1.4Gbps.
The next-generation AI experience is around the corner. Stay tuned for the launch of the first Kirin 980-powered Mate Series device, which is scheduled to arrive in October.