CNME Editor Mark Forker spoke to Marcel Yammine, General Manager for the Gulf & Emerging Markets at SAS. Yammine charted how SAS's legacy of managing data has ensured it has enhanced its market reputation globally in terms of addressing the main pain points for enterprises seeking to achieve digital transformation.
In April, you hosted the SAS Analytics Roadshow in order to highlight how the application of advanced AI is helping to transform organizations across the region. How much of a success was this event for SAS?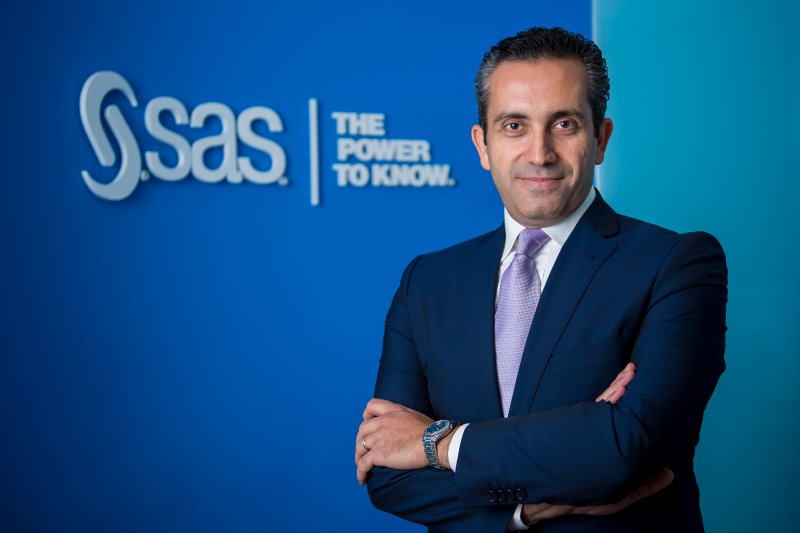 The SAS Analytics roadshow that we hosted in April, is an annual event that we hold every year in Dubai. It's a cross-industry event in which we invite our customers and the community that we engage with, including prospects from various industries to discuss the latest trends and challenges related to digital transformation and analytics, whether it's from a business or technology perspective. At the roadshow, SAS presents how we can add value to these organisations across their various businesses and industries to ultimately help them achieve their organisational objectives.
However, I must go on record to state that the SAS Analytics Roadshow in April, was one of the most successful events we've ever had. The level of participation was rich from a diversity perspective, and we attracted many leaders from the analytics field globally, and key figureheads that have been tasked with leading digital transformation projects with banks, commercial organisations and public sector entities.
The overall feedback we received was very impressive and confirmed that SAS remains a very relevant player that is introducing cutting-edge technologies in this domain which is resulting in continuous engagement with major enterprises in the ICT sector.
The topic of AI is a prevalent theme at many ICT events globally. However, is part of your role an educational one in order to help businesses understand the value of AI?
Obviously, this depends on the entities and people you're dealing with. There are a series of organisations that are well-advanced when it comes to AI, whilst there are many others that are not. We don't present ourselves as teachers to organisations.
However, SAS has a long legacy when it comes to dealing with data and analysing data and bringing insight into the business environment out of the data available. On the other hand, when it comes to spreading the knowledge around AI and analytics, we do have some initiatives with higher education institutions.
We engage with them in a bid to introduce SAS, analytics and AI as part of their curriculum. This helps to promote these technologies and trends with the next-generation, who in a few years' time will join the workforce and become key contributors to many major industries and enterprises involved with these technologies.
Can you explain to us how SAS is helping enterprises and governments to leverage new technologies in a bid to optimize their business operations in this data-driven digital era?
As I mentioned before government ministries and entities are one of our strategic partnership areas, whether that's in the UAE, or across the region. Many of the leading government agencies in the UAE, who are spearheading a series of AI and digital transformation initiatives are engaged with us already. One of them is Abu Dhabi Judicial Department (ADJD). We're helping them to achieve their objectives when it comes to digital transformation.
We're enabling them to leverage AI in order for them to harness that data and extract the business sense and value from the data. This ultimately allows them to make data-driven decisions which significantly improves the visibility of the management and leadership of the overall operations.
SAS ensures that AI and analytics are key enablers of specific initiatives that will help them become more scientific in terms of making decisions and applying data and science into their policy making.
The Banking and Financial services industry is ranked high in terms of analytics maturity. How important is it for them to establish analytics as a key business discipline across all their operations?
Banks and the banking sector in general are one of the most competitive industries. It is quite mature when it comes to leveraging data, automation and embracing AI and digital transformation – and this is the nature of the industry, as not only is it competitive, but the demands of their customers are always evolving. There is a growing demand for banks to become more automated to better understand their customers' needs, behavior, and trends in order to be a position to offer them the right offers at the right time.
We're engaged with multiple banks here in the UAE, and right across the Middle East. We're working with banks on analytic initiatives from a business consulting perspective where we help them in their analytics lifecycle and maturity journey to ensure their embedding analytics and data into their decision-making in an efficient way.
In your expert opinion, what is that differentiates SAS from its competitors?
At the end of the day, there is multiple players' in the market – but we do not claim to be the only vendor, although SAS is a global leader when it comes to analytics. We possess more than 30% of the global market share. However, what I think differentiates us from our rivals is our personal attention at the corporate and team level. It's in our DNA to be close to our customers. We address their challenges and issues in a personalized and consultative manner – and this is what ultimately separates us from the rest.