Following the introduction of the Hub Robot for smart home use and ongoing trials of 'airport robots' at Incheon International Airport (IIA) in South Korea, LG also unveiled three additional robots designed for commercial use at hotels and shops.
The robots will be able to serve refreshments, carry suitcases and assist with shopping. LG's entire range of robots using AI are all trademarked under the "CLOi" brand umbrella – the same brand for all its robot products.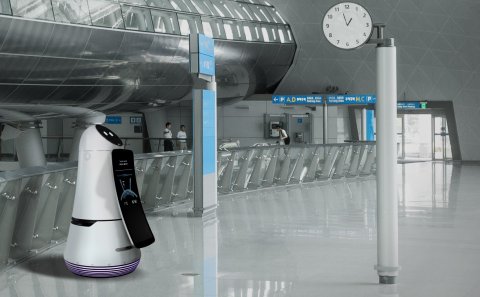 Most people are aware of how AI technology is changing the way consumers interact with companies – speeding up various processes and making them more streamlined than ever before. AI is starting to have a greater and more positive impact on society in the realms of medicine, engineering, technology and beyond. LG has been on the pioneering frontline of building ergonomic and user-friendly technologies for quite some time now.
Kevin Cha, President of LG Electronics Middle East & Africa, said, "As modern electronics and technology continue to intertwine and become evidently more important to the daily lives of our trend-setting consumers, there is a tremendous opportunity to engage people in newer and more innovative ways. LG has been involved with smart technology and robotics for many years. Our growing AI line and ongoing trials of intuitive robots dispatched at IAA are a testament to our commitment to create trustworthy and revolutionary technologies to help people all over the world. I look forward to seeing this technology being introduced to the Gulf region in the near future."
The Hub Robot, equipped with Amazon Alexa's voice recognition technology and unveiled in 2017, is a device made to enhance families' daily experiences by connecting to other smart appliances at home. The robot will be able to accomplish household tasks such as turning on the air conditioner or changing the dryer cycle. It will also act as an adaptable personal assistant, being able to provide users with entertainment and organization options at home, able to play music, set alarms, create reminders and provide weather and traffic updates. It can also monitor the home once all members of the family have left the premises.
The Airport Guide Robot is designed to roam the airport providing information and assistance to any one of its 57 million annual travellers passing through, while the Airport Cleaning Robot will be on hand to keep floors immaculately clean. Both robots are aimed at making travelling through IIA as efficient and pleasant as possible.
The three additional conceptual robots include the serving robot, which possesses a built in sliding tray and can deliver food and drinks in hotels and airports. The porter robot, which can tote around luggage and handle "express check-in and check-out services", and finally the shopping robot, which will be able follow customers around supermarkets and stores, collecting shopping items and tallying up prices.