AOC has launched two new gaming monitors, designed for gamers who want to play at a competitive level but at a value price: AOC C24G1 (23.6") and C27G1 (27").
The AOC G1 series has a monitor for all the core specs needed for performance at a pro gaming standard, yet providing an immersive and entertaining home experience at an accessible price for almost everyone.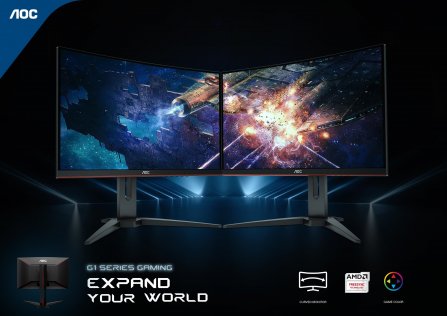 Playing any game at a high level demands strong monitor performance. AOC G1 monitors come with pro gaming anti-lag and anti-stutter measures like AMD FreeSync, 144Hz refresh rate and Low Input Lag (which decreases delay between video source and display).
Additionally, AOC G1 displays feature fast VA screen technology with 1ms Moving Picture Response Time (MPRT). The MPRT standard is a highly accurate way to measure visible motion blur based on pixel visibility time. This is achieved by an intuitive display feature that automatically modulates backlight intensity between image refreshes – hiding any jagged image refresh lags and reducing unseemly motion blur.
AOC G1 monitors provide an intense gaming experience with a curved screen and sleek narrow bezel.
Flicker-Free and Low Blue Mode technologies ensure the users' eyes are protected from potential strain and harm.
Prices: C24G1 $279 and C27G1 $309