CNME spoke to Matt Wats, Director of Technology and Strategy at NetApp, to understand how the hybrid cloud and data services firm aims to capitalize on the hyperscalers' opening of Middle East data centres.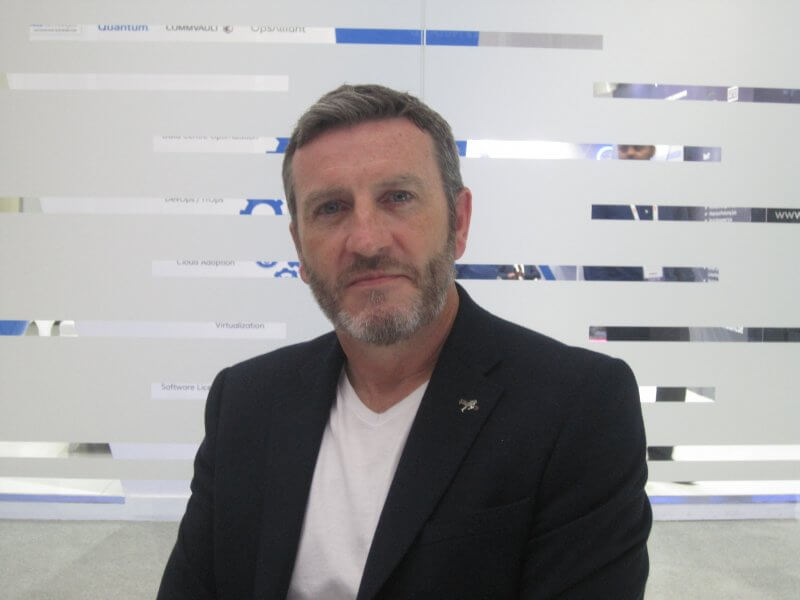 The entry into the Middle East of the major cloud providers will benefit NetApp, the company's director of technology and strategy has said.
Matt Watts, a 14-year veteran of the hybrid cloud and data services firm, says the upside for NetApp, while initially "counter-intuitive", will result from the way in which the company's technology is tied in with that of the hyperscalers.
NetApp's Data Fabric is central to this. This architecture takes in different endpoints ranging from on-premise to multiple private and public clouds.
Watts says that NetApp's technology is "embedded in that of the hyperscalers", among them Microsoft, Amazon, Google and others.
With Microsoft, for example, there is Azure NetApp Files, described as offering "enterprise-grade Azure file shares powered by NetApp".
"That's our technology inside Microsoft providing that. We have the same with Amazon and Google," said the UK-based Watts.
"We believe we're the only company that can enable companies to build their data fabrics and span multiple cloud providers. There's on-premise technology and any of the clouds from major hyperscale providers. That's how our business is developing in other regions that are further ahead in terms of cloud adoption."
Watts is in a good position to talk about what is likely to happen to the data industry in the years to come, since this is central to his role at NetApp.
He spends much of his time talking to NetApp's largest customers to understand their strategy and how they are looking to develop.
Watts also works closely with NetApp's Advanced Technology Group to look at the technology, investments and trends that will affect NetApp in the years beyond the company's immediate road map. It is about, he says, trying to think about how the landscape will look beyond two, three, four or even five years from now.
Among the trends Watts focuses on is "the huge move towards how we use the cloud", such as through the increased deployment of software as a service (SaaS) and platform as a service (PaaS).
A key issue, he says, is how the cloud is used to deliver new capabilities, while the way in which cloud-like solutions can be delivered on-premise is also one of his key interests.
"Part of the challenge is how do you build something that's flexible enough to be what you want it to be going forward," he said.
While describing the UAE as "very advanced", Watts says that the Middle East is behind some other parts of the world in terms of cloud adoption because the major cloud providers have been slower to build data centres here.
However, with the hyperscalers having opened data centres in the UAE this year, offering locally based cloud storage, the situation is set to change.
As Watts puts it, the hyperscalers are now "starting to build their presence here" and increased cloud adoption in the region is, as a result, "simply a matter of time".
Oracle announced in February that it had opened a data centre in Abu Dhabi, something that, according to the company, would "support the rapid adoption of Oracle Cloud in the UAE".
In June Microsoft launched data centres in Dubai and Abu Dhabi, its first in the Middle East. At the time, the company said that the data centres would offer "resilient cloud services while maintaining data residency, security and compliance needs".
This was followed the following month by an announcement by Amazon Web Services that it had launched three data centres in Bahrain, its first in the Middle East. Google, meanwhile, has selected Saudi Arabia for its first Middle Eastern data centre.
Once hyperscalers open data centres in a region of the world, there is typically a lag before local organisations start to migrate to the cloud in earnest, according to Watts.
"When the cloud isn't in your region, a lot of people have a natural fear of it: 'If things go to the cloud, I will lose my job,'" he said.
"People think their data will never go to the cloud because it's not secure. There's the challenge of how you use the cloud and make it part of your strategy. That's how people fear it.
"Then Amazon or Microsoft bring a data centre into the region. It takes about 12 months for companies to say: 'We have to use it; we have to build a strategy.'
"Oracle are making an investment here and Azure are coming into the region. In some way, we see Dubai as a big hub for us. I am sure the hyperscale providers are looking at it in a very similar way."