Paladion Technologies and Sejel Technologies, a top ICT Services company in Saudi Arabia, have entered an exclusive and strategic partnership to bring an AI-Driven Security Operations Center to Saudi Arabia.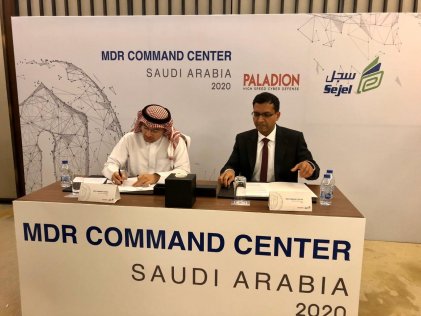 "Cyber threats are steadily becoming more sophisticated and challenging to detect," said Ahmed Al-Ghamri, CEO at Sejel. "With Paladion's industry-leading AI-Driven SOC solutions and services, Sejel can bring advanced threat detection and rapid response to organisations when implementing a cybersecurity programme.
"Today, it takes companies in the Middle East over 200 days to detect a data breach.  Through our partnership with Paladion, we can reduce the detection time to minutes.  We are committed to bring the latest technologies to this country to achieve the goals of Vision 2030 in light of the generous and continuous care of the Custodian of the Two Holy Mosques King Salman and Crown Prince Mohammed bin Salman," he added.
The joint SOC from Sejel and Paladion will deliver Managed Detection and Response (MDR), an advanced managed security service that provides threat intelligence, threat hunting, security monitoring, incident analysis, auto containment, and incident response.
According to both companies, this is unlike traditional SOC's run by MSSPs who only provide alerts from security monitoring. Using advanced security analytics on endpoints, user behaviour, application, and network, MDR provides deeper detection compared to traditional MSSPs, who mostly rely on rules and signature. For faster response, MDR also uses AI and machine learning to investigate, auto contain threats, and orchestrate a response.
"We are excited and confident about this collaboration with Sejel to launch a Security Operations Center in Saudi Arabia," said Rajat Mohanty, CEO at Paladion. "Sejel is a trusted adviser to private and public organisations in Saudi Arabia. We developed our AI-Driven SOCs to give businesses simplified access to next-generation cybersecurity, and our partnership with Sejel would allow organisations across various industry segments and sectors in Saudi Arabia to choose and benefit from a globally recognised and leading-edge AI-Driven Managed Detection and Response service."
Sejel highlighted that it is committed to the success of their clients, including protecting businesses and their people from current cyber threats, especially in today's sophisticated cyber landscape. The company noted that it chose Paladion's MDR for the end-to-end threat management it provides, combining AI and automation with people skills, allowing Sejel to deliver industry-leading solutions to its clients.
Amit Roy, EVP and regional head – MEA at Paladion, said, "With this collaborative AI-Driven SOC launch in Saudi Arabia, Paladion plans to nurture local talent and groom local Saudi youth into future cybersecurity leaders, and contribute to Saudi Vision 2030."