Companies can save hundreds of thousands of dollars a year by reconfiguring the way they store data, the data services company NetApp has said at a regional gathering.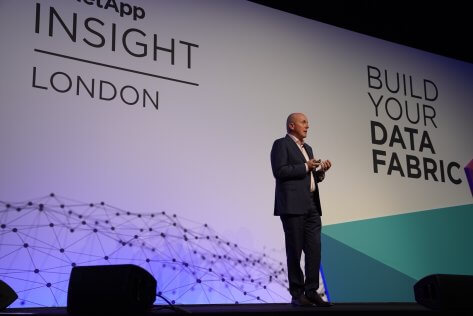 At its NetApp Insight London conference, an event attended by senior company officials and customers, delegates were urged to exploit the "elasticity of the cloud" to reduce costs and free up money that could be invested in innovation.
Savings in data storage can be made by actions such as migrating "cold" data, which is data that is infrequently accessed, from all-flash arrays to the public cloud.
Sending just 250TB of data from an all-flash array to the public cloud can generate savings of $14,500 (AED 53,259) a month, according to Anthony Lye, NetApp's senior vice president and general manager for cloud data services.
In offering this service, Lye said that NetApp collected a percentage of the savings as a fee, but said that, overall, companies could reduce their costs significantly.
"It's such a simple return on investment," said Lye during a session entitled Cloud: Innovate, don't Administrate.
NetApp's solutions centre on Data Fabric, its architecture for managing on-premises data and data stored in multiple clouds.
Within this, Lye highlighted services such as NetApp Cloud Volumes, which the company describes as a "fully managed cloud storage solution" available for Google Cloud Platform and Amazon Web Services.
With a 500GB workload, Lye presented figures indicating that the monthly cost is the equivalent of Dh129,673. With a standard cloud provider, the monthly cost with the same workload is equivalent of AED 274,116, according to NetApp.
NetApp and Microsoft have created a similar service, called Azure NetApp Files, for use with Microsoft Azure.
Speaking to an audience at the O2 InterContinental Hotel in London, Lye indicated that the total savings generated by using NetApp's services added up to vast amounts.
Taking multiple actions to improve the management of data can create savings that, according to figures presented by Lye, exceeded $1 million (Dh3.67 million) a year for a single company, money that could be invested in innovation.
"We're probably close to saving this entire audience $1 billion," he said.
Delegates were warned that legislation such as the European Union's General Data Protection Regulation (GDPR) required companies to be extra careful with how they used customer data or run the risk of big fines.
Lye said that NetApp's solutions included always-on privacy and compliance functions that are based on artificial intelligence. These can scan data, whether it is on-premises or in the cloud, and produce comprehensive reports on compliance with GDPR and other legislation.
This allows companies to manage their data so that they remain compliant in a legislative landscape that Lye warned had becoming stricter.
Indeed he highlighted the way that significant fines have already been levied on major organisations that had failed to adhere to legislation on data protection.
"You can deploy compliance; it will take about three seconds to go and activate this. Penalties are coming and customers are expecting you to take care of them," said Lye.
"If you don't take care of them, you run the risk of big, big fines. The fines and the legislation are coming."