At its flagship event, Samsung Electronics has introduced the Galaxy Z Flip, a new, statement-making foldable smartphone.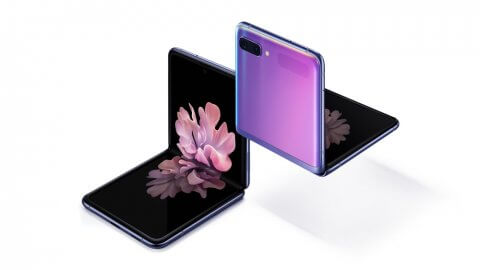 Engineered with first-of-its-kind foldable glass, Galaxy Z Flip bends the laws of physics, and features a 6.7-inch display that folds into a stylish and compact form factor that fits in the palm of your hand. Designed with an innovative Hideaway Hinge and custom-built UX, Galaxy Z Flip provides elegant new ways to capture, share and experience content. From its stylish design to its flexible camera experience, Galaxy Z Flip opens up a new decade of foldable mobile innovation.
"At Samsung, we were encouraged by the excitement for the Galaxy Fold. Galaxy Z Flip is an important next step as we look to build the foldable category by bringing to consumers a new form factor, new display and most importantly, a new kind of mobile experience," said Dr. TM Roh, President and Head of Mobile Communications Business, Samsung Electronics. "With Galaxy Z Flip's unique foldable design and user experience, we're redefining what a mobile device can be, and what it enables consumers to do."
Foldable Heritage
The category-defining Galaxy Fold began the foldable era. Now, Galaxy Z Flip is shaping it for a new decade. As the first device in the Z series, Galaxy Z Flip introduces a new device portfolio that reaffirms Samsung's commitment to leading the category, and leveraging technologies and form factors to create foldable experiences that will surprise and delight in the years ahead.
Fashion Meets Technology
Galaxy Z Flip's compact, stylish design is created for those who see technology as a way to express themselves. And all of the innovations that go into Galaxy Z Flip ensure they can do so.
Style that Fits in Your Pocket – Designed for ultimate portability, Galaxy Z Flip folds into the size of a wallet, so users can easily fit it in their pocket or bag. When closed, it is a stylish, compact palm-sized device. When opened, its screen size nearly doubles to reveal a stunning 6.7-inch display. With its stylish color palette, sleek rounded corners and forward fold that closes with a satisfying snap, Galaxy Z Flip is sure to turn heads.
Samsung's First Foldable Glass Display – Galaxy Z Flip features an Infinity Flex Display with Samsung's proprietary bendable Ultra Thin Glass (UTG), making it slimmer with a sleek, premium look and feel that has never been seen with a foldable device before. The centered in-display camera cutout at the top also means there's no notch and no distractions, with Samsung's first-ever 21.9:9 ratio, so user can enjoy even more of their favorite content such as cinema-ratio 21:9 shows and movies.
New Hideaway Hinge – Galaxy Z Flip's Hideaway Hinge is a work of engineering art. It's backed by a dual CAM mechanism – small but sophisticatedly designed to ensure every flip and fold is smooth and stable. Galaxy Z Flip can stay open at a range of angles, like a laptop screen. The Hideaway Hinge system also integrates Samsung's new sweeper technology, which uses nylon fibers crafted by micro-height-cutting technology to repel dirt and dust.
As a Galaxy device, Galaxy Z Flip brings the Galaxy ecosystem into its brand new foldable experience. It boasts flagship-level performance and features across camera, display, battery, security as well as services like Samsung Health, Samsung Pay, Samsung Knox and more.
According to Samsung, users can also enjoy a versatile camera experience with 4K video capture, Live Focus and Super Steady recording. Galaxy Z Flip features an optimised dual battery system that holds more power without taking up more space.
Availability
The Galaxy Z Flip will be available in limited quantities in Mirror Purple and Mirror Black, starting in select markets including the U.S. and Korea on February 14, 2020, followed by Mirror Gold in select countries.