Organisations today are looking to harness the huge value brought by the cloud, however, it tends to not be the right solution for all their workloads. For some, the cost it too high than they expected and for others they are facing industry regulations that make on-prem a better venue.
These factors make it challenging for growing businesses to remain competitive while meeting the demands of end-users.
HPE GreenLake offers a consumption-based IT model offers flexibility and scalability of the cloud while maintaining on-premises autonomy over your data.
It provides customers with a consistent cloud experience on premise on their data centre for all their applications and data, through an operational console that runs, manages and optimises their entire hybrid IT estate.
With HPE GreenLake, the customers can: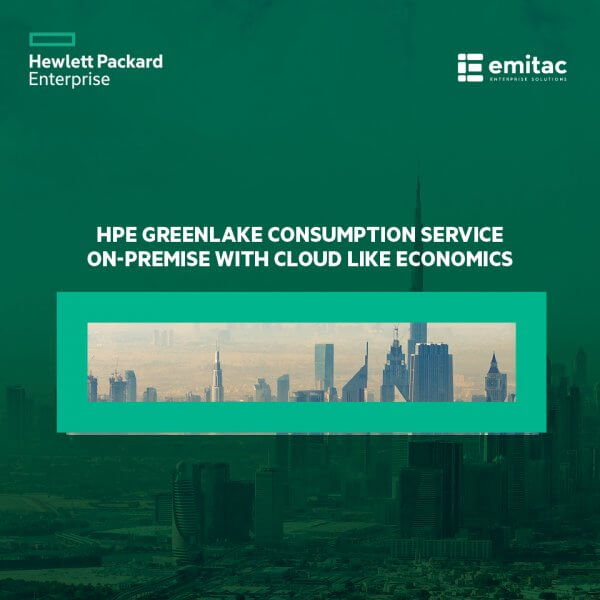 Pay per usage for on-premise workload
Move faster with a self-service, point-and-click cloud experience
Deliver a tailored cloud experience with role-based access for IT, CIOs, DevOps, and finance
Gain quick insights across all functions with high-level KPIs, security and compliance
Try new apps and services from a robust marketplace of HPE and partner offerings
Furthermore, companies are increasingly also looking for the right partner to help them effectively achieve the tremendous promise of cloud. Emitac Enterprise Solutions (EES) is a leader in delivering IT Infrastructure, Managed and Cloud Services and Solutions. Emitac, together with HPE, brings to you the HPE GreenLake On-Premise Consumption Model.
HPE and Emitac will provide the tools and methodology to perform the capacity measurement and billing for HPE servers, storage, and networking systems. HPE tools will query the allocated products on a periodic basis to determine the capacity used by the customer.
Click here to find out more about how Emitac and HPE can help you thrive in the cloud era now!