ISACA UAE Chapter & Tahawultech.com hosted the first edition of the Infosec & Cybersecurity Congress at the Habtoor Grand Resort, Autograph Collection, JBR Dubai.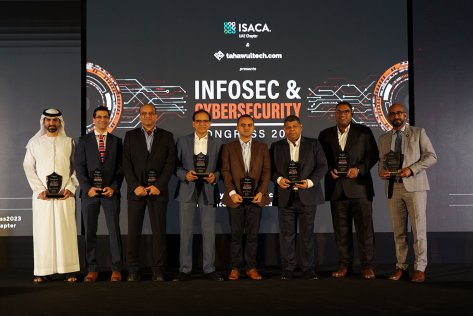 The event highlighted the rapid evolution of the cybersecurity landscape and its increasing complexities that leave organisations vulnerable and exposed to threat actors. It brought together CISOs, IT professionals, security architects, policy makers and other key security officials to debate on the future of IT Information & cybersecurity. Are the current solutions and processes enough? How much security would companies wish to deploy, going forward? What skillsets would security professionals need to have, in order to deal with the most sophisticated threats?
Dr. Alok Tuteja, President, ISACA UAE Chapter, set the tone for the day with his insightful and engaging keynote address.
The two panel discussions spotlighted some of the key aspects in modern-day IT & security. The first discussion on the key elements of cybersecurity brought together esteemed panelists Amit Mehta, Cyber Security Consulting Practice Lead, EEMEA- at Mastercard, Ellis Wang, Board of the Executive & Advisory Team at The Private Office of Sheikh Saeed Bin Ahmed Al Maktoum, Mustapha Huneyd, Customer Security Director at Ericsson, Prashant Nair, Senior Vice-President, Group Chief Information Security Officer at Airtel Africa and Yazad Khandhadia, Vice-President – Security Architecture & Engineering at Emirates NBD. Moderated by Anita Joseph, Editor at CPI Media, the discussion focused on the evolution of the security landscape over the years, the increasing reliance on Managed Service Providers, Zero Trust as a buzzword for total security and the changing role of the CISO in the corporate boardroom.
The second panel saw Adel Alhosani, CISO, Dubai Customs, Anas Eltahir, Senior Information Security Specialist, The Government of Dubai Legal Affairs Department, Jayesh Nandanan, ICT Manager, GRC & Information Security, Mediclinic Middle East, Prince Rana, Manager Information Security, Risk and Governance, Seddiqi Holding and Vishal Bhawnani, Head of Cybersecurity, Virgin Mobile UAE, debate on what CISOs need to do to ensure that organisations foster a human-centric approach in their journey to promote digital culture. The panel was led and moderated by Kapil Matta, Security Evangelist and Programs Director at ISACA. 
The CISO Infosec & Cyber Risk Leadership Awards 2023 honoured 10 IT & security stalwarts for their contribution to the industry. Following is the list of winners:
Yazad Khandhadia of Emirates NBD
Abbas Sabuwala of DMCC Authority
Prashant Nair, Airtel
Amit Mehta, Mastercard
Humaid Al Humaidi, Ports, Customs and Free Zone Corporation
Dhiraj Sasidharan, Emirates NBD
Adel Alhosani, Dubai Customs
Somnath Sarkar, Mashreq Bank
Ebrahim Kamalzadeh, Al Nabooda Automobiles LLC
Jinson Pappachan, Emirates Policy Centre