Tahawultech profiles Women in Security and outlines the current status of women in the workforce in the IT security field.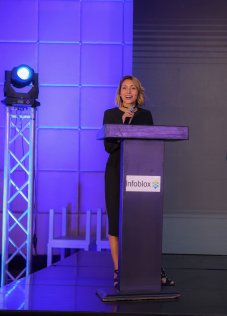 Tell us about your role and responsibilities within your organisation.
As Field Marketing Manager at Infoblox, my focus is on the Middle East, Africa, Turkey, and Pakistan regions. I am responsible for overseeing all marketing efforts that extend beyond digital channels, including social media, educational programs, and networking experiences. Additionally, I am particularly passionate about account-based marketing and enjoy working on content creation. Overall, my role involves managing diverse marketing activities and ensuring they align with the company's goals and objectives.
What inspired you to take up a career in the security field?
My fascination with technology and its ability to connect people, simplify complex tasks and transform the world we live in, was the main inspiration for me to pursue a career in the IT security field. I have always taken a keen interest in how technology can save lives by protecting people's data and assets. Pursuing a degree in Information Technology and Computing further strengthened my passion for the field. I was fortunate enough to start working at an illustrious company like Hewlett-Packard (HP) at a young age, where my interest in marketing was sparked due to its creative aspect. I haven't looked back since those early days and have been working in the IT industry ever since. My passion for the security field has only grown stronger over the years. I am proud to work in this industry and am excited to continue contributing to it through my work in marketing.
What is it about your job that excites and motivates you?
One of the primary things that excites and motivates me about my job is my team. Throughout my career at various companies such as HP, Dell EMC, Palo Alto Networks, and now Infoblox, I have been very fortunate to work with exceptional individuals, who share my passion for creating meaningful experiences for people. I enjoy human interactions and find it incredibly fulfilling to work with others towards a common goal. Additionally, I firmly believe that cybersecurity is everyone's responsibility and that all investments, including human resources and funds, coupled with awareness, are critical for the greater good of humanity. As the saying goes, "safety-first." Being able to contribute to such an important cause and work alongside talented and passionate colleagues is what motivates me every day.
How do you tackle challenges in your job?
I do love me a good challenge! I usually tend to calm myself down in order to think with a clear head, then break down the challenge and seek advice from colleagues and mentors. I explore solutions and take calculated risks while remaining adaptable and open to change. It is very important to surround yourself with good, smart people, because ultimately, working as a team in order to tackle challenges is key to success.