French biometrics firm TazTag has announced the launch of its new government biometric tablet to the Middle Eastern market at this year's GITEX Technology Week.
The tablet features an FAP50 fingerprint sensor, IC card reader and a printer built-in an IP64 rugged design.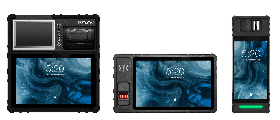 In celebration of its tenth anniversary, the company is also debuting its rugged and secure line-up of tablets. It's new 5-inch TazPad XS comes also comes with an IC card reader, as well as NFC, fingerprint sensor, and an optional EMV POS and printer – the ultimate tool for door-to-door banking and point of sale services. 
In addition, the new TazPad LTR features an 8-inch screen, again with IC card reader and FAP20 fingerprint sensor – a multi-purpose Android tablet with software development kit. 
"For the last six years, we have equipped more than 6,000 point of sales in the UAE, offering solid identity control and back office solutions for a wide range of services," said Eric Fouchard, CEO, TazTag. "Our new devices are already approved by EIDA (Emirates Identity Authority) and will be a serious match for the new challenges and next generation of services here in the Middle East."