Huawei is showcasing the benefits of a connected world in areas ranging from education to healthcare. Hani El-Kukhun, the company's vice president strategy for the Middle East, describes the transformations that are coming.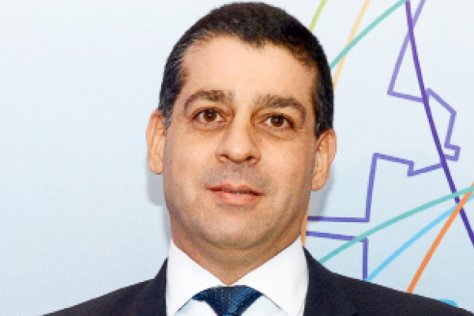 5G has been branded as this year's game-changing technology. What impact do you think 5G will have on organisations in the Middle East?
GITEX comes at a critical point as large-scale 5G network launches are now imminent. 5G will have an impact on every aspect of society from businesses and government to individuals.
The biggest technical perks of 5G are greater connectivity speeds and lower latency, and the value of that to society is enormous.
Today, that means powering new applications in areas like virtual reality, cloud gaming and robotics, and bringing endless use cases to nearly every vertical industry.
5G will also open up collaborative and remote workspaces like never before. It will create more efficiency and productivity, too, as being tied to a desk becomes a thing of the past.  For organisations that operate remote equipment – such as air traffic control centres, emergency services with monitoring cameras, big industry, and so on – 5G will again power smarter solutions with greater connectivity.
What do you hope to achieve at GITEX Technology Week 2019?
At GITEX, we will showcase end-to-end ICT solutions that contribute to building a fully connected, intelligent world.
Artificial intelligence and 5G will play a major role in this transformation. They are the most significant technologies that are reshaping our society today. This advanced intelligence will be felt across every touchpoint of the digital economy.
We hope to demonstrate the benefits of that connected society, and how together with our partners and customers, we are bringing digital to people, homes and organisations across the region.
What are the challenges organisations in the Middle East face in their digital transformation journey?
On a global scale, there are two major factors that impede digital transformation: lack of understanding, and limited budget.
Smaller companies tend to have an advantage when it comes to digital transformation, as they have fewer resources to convert. While they may not have the budget to hire a digital strategist or a CIO who can lead the transformation, they can rely on partners to provide advice and customised solutions.
Larger organisations face different challenges. Many have appointed CIOs who are devising and leading digital transformation efforts successfully.
However, overhauling operations for companies that have hundreds if not thousands of employees can be a massive endeavour. That requires considerable time, training, and investment.
That being said, I think many organisations in the Middle East have moved quickly to capture the value of digital. Take AI as one example. Those of us in the ICT industry have been championing the benefits of AI for some time now, and many organisations in the Middle East now realise these benefits and are embracing the AI movement as a real game changer.
What are the biggest trends that will transform the market you're operating in, besides 5G? 
In the Middle East, governments are strongly pursuing digital transformation in their pursuit of economic diversification. That confidence comes as the world's economy has started to benefit from this historic technology pivot.
As we digitise and connect more things, AI is becoming a new general-purpose technology, and perhaps the most significant trend impacting the market today.
We can see this in Huawei's latest Global Connectivity Index. We have found that industries are embedding AI in key enabling technologies – broadband, datacentres, cloud, big data and IoT – to turn connectivity into intelligent connectivity, unleashing innovation to propel a new wave of economic growth.
This economic value will be bolstered even further by the roll-out of 5G broadband. Enabling more people, things and devices connected with high speed and low-latency bandwidth than ever before, 5G will facilitate the kind of real-time data sharing and analysis at the heart of AI applications.
A recent study by IDC shows that, between 2018 and 2022, IT-related spending on digital transformation will touch $7.5 trillion. How will organisations adapt to these changes?
Businesses and governments will continue to invest heavily in digital transformation in the coming years. There is a growing realisation that digital strategies must be adopted now in order for organisations and public institutions to survive in an increasingly connected world.
As more organisations adapt to these changes, Huawei believes that digital inclusion must be a priority. Digital inclusion means using technology to promote inclusive development and leaving no person, home or organisation behind. Our philosophy is that technology shouldn't sit in an ivory tower. Instead, it should benefit all humanity.
In practical terms, that means using digital technology to give more people easy access to better healthcare resources. It means using technology to give the disadvantaged equal access to education and enrich education resources.
Eliminating development gaps for various sectors can also be achieved by ensuring equal access to digital resources. Moreover, we can use innovative technologies to more efficiently protect and conserve environmental ecosystems. It is all part of building a fully connected, intelligent world.