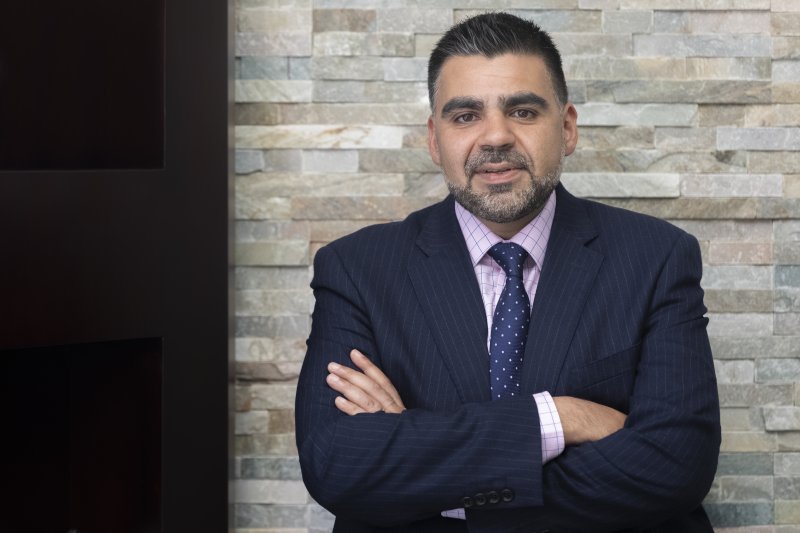 A key figure behind one of the Middle East's shining Blockchain success stories has said that feverish excitement around the technology has the potential to do its prospects more harm than good.  
Tristar's group head of IT Adam Lalani, who is a panelist on tahawultech.com's upcoming Power of 4 Fourth Industrial Revolution as part of the Blockchain discussion on Monday 17th September, has already successfully implemented a Blockchain-based system that tracks the logistics company's shipments across the region.
However, Lalani believes that too many business owners and technology end users are being swept up in the hype of the distributed ledger technology, and that its risks are being largely ignored.
"I do get sick of the excessive hype around Blockchain, because I personally don't like it when people wax lyrical about something they have no idea about," he says. "I may think a certain technological, scientific or engineering concept is a great idea, but I won't go around saying it's the next big thing if I actually have no idea about it, mainly because I don't want to come across as clueless."
December 2017 saw the price of Bitcoin soar to almost $20,000, but it had plummeted to below $6,000 by June. This initial rise played a key role in the growing excitement around Blockchain, and Lalani believes that these price movements have served as a "reality check" for the technology. "I think the cryptocurrency collapse was actually a good thing in many respects," he says. "There was so much hype around get-rich quick schemes, with people believing the $1,000 of Bitcoins they'd bought would become $100,000. Eight or nine months ago, people were buzzing over the price of Ripple and Ethereum, but now nobody talks about them. People are now focused on the technology behind them."
Lalani also believes that while the benefits of Blockchain will be significant in the long run, discussions around its risks and current failings are few and far between. "No one hardly ever talks about the deficiencies of Blockchain," he says. "Your Blockchain might store data, but you still need traditional databases for fast access to it. Without these databases, it's like having to fast forward and rewind a cassette. If you have traditional databases reading off of the Blockchain, you can do fast searching, which allows for easier analysis."
These databases, according to Lalani, are Blockchain's greatest weakness. "People need to understand that while you can't tamper with the data on the Blockchain, data coming into a database can be manipulated. That is the major current flaw with Blockchain."
With Tristar having already proven itself to be a standout example of Blockchain use in the Middle East, the firm has naturally attracted intrigue around the relatively light work it made of the innovative changes. This success, however, has also attracted observers with more sinister interests.
"I've met and worked with some accomplished Blockchain developers who are absolutely competent in what they do, but organisations need to be careful who they work with," he says. "Unfortunately, a lot of people profess to be Blockchain developers. They claim they can help you with Blockchain projects, but that is often absolutely not the case. Some people try to get information out of you by asking for about the user interface and dashboards that you've built to extract information. Some people know we've been successful with Blockchain, but now they want to steal our ideas. Great exposure is one thing, but you need to be careful how that manifests itself."
As well as unscrupulous would-be plagiarists, Lalani also warns against have-a-go Blockchain experts who are not up to the job. "These days, everyone who does any kind of software development thinks they can do Blockchain," he says. "In a lot of cases that just waters down the quality of the output. Some companies haven't got a clue. They offer you products and services, then once they've sold them to you only then do they try and figure out how to actually deliver them. Until there are developers with 3-5 years of experience, I don't think we'll really see Blockchain fully come to fruition, in spite of what anyone says."
Lalani also believes the hype machine is just as powerful about another hot tech topic of the age – artificial intelligence. Again, Lalani warns against industry pretenders who claim to have all the answers. "There are so many companies who come in and say they've got a great AI product, and most of the time it's absolute nonsense," he says. "We have vendors who pitch us AI services or chatbots, but these platforms need to be fed with information. Like any other application, they need to be given a set of conditions for them to run.
"For the likes of AI and Blockchain, realism is often not there because the path hasn't been trodden. The media is definitely guilty of hyping certain technologies. It's great to talk about what the future holds, but we need to be realistic about the present."
That realism, Lalani says, must be encouraged by the Middle East's chief information officers and expert technology end users.  
"There needs to be a voice of sanity sometimes," he says. "It's great to have ideas and believe that things are possible, but it's important to be realistic. You can only make something with the cards you are dealt."