German engineering firm Bosch has launched an app Perfectly Keyless, which enables the smartphone to replace the analogue vehicle key.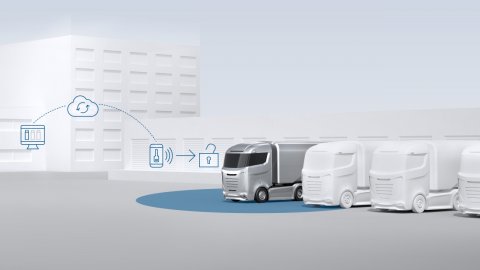 This concept can offer owners of private vehicles increased convenience, but where it really shines is in vehicle fleets with multiple drivers. No more key handovers: fleet managers and logistics providers simply use the app to give drivers access to the vehicles.
"Our Perfectly Keyless app is making conventional vehicle keys a thing of the past. Bosch is taking the car key into the digital realm and making it available anywhere, anytime," said Harald Kröger, president of the Bosch Automotive Electronics division.
"Bosch's digital vehicle key gives fleets a boost towards greater connectivity," Kröger added. The company believes there is a huge market for its solution, which is making its world debut at the IAA Commercial Vehicles in Hannover: potential customers include some 15,000 logistics providers in Germany alone. Most of them manage at least a dozen vehicles and drivers.
Secure key management with app and cloud
Bosch digital key management connects trucks and the smartphone app via the cloud. Dispatchers or fleet managers use the app to assign a truck to a driver for a particular route. Perfectly Keyless generates a personal, secure digital key and sends it via the cloud to the truck and to the driver's smartphone.
As the driver approaches the assigned truck, the sensors installed in the truck detect the smartphone via a wireless connection. The vehicle doors will open only if the key on the phone "fits" the digital lock in the vehicle. These sensors can also tell when the driver is in the driver's seat, and the engine starts up as soon as the driver presses the start-stop button. When the driver gets out of the car at the end of the journey, the system detects this and automatically locks the doors.
Battery dead? No problem!
But what happens if the smartphone's battery dies, or the device has gone missing? In the future, the vehicle key in the smartphone will work even if the phone battery is dead. In that case, the phone and truck will communicate using near-field communication (NFC), a wireless protocol for sharing data over short distances.
Bosch plans to make it the "double hull" of its solution. If the smartphone is lost or stolen, and the app with it, the digital key can be simply deactivated online, thus blocking access to the vehicle. It cannot be opened and started until the fleet manager uses the app to provide another driver or a new phone with access to the truck.
For more stories on success and business transformation through technology subscribe to our newsletter. Follow us on Twitter and LinkedIn, like us on Facebook to get daily updates on the latest tech news.