Careem has announced the launch of Free unlimited WiFi in all Careem cars from mid-July this year.
The service is a result of a recent partnership with Etisalat, the UAE's leading telecommunications operator, and Snapit Digital, a Media Tech company, to provide free, high-speed Wi-Fi to all Careem passengers in the UAE.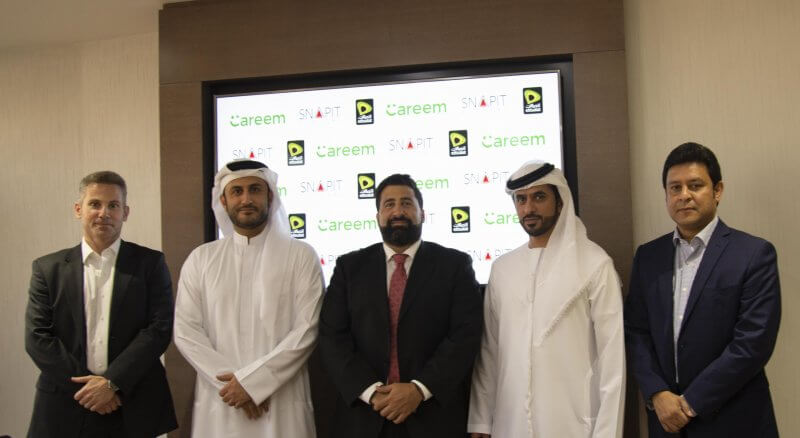 The new service that is set to roll out mid-July in all Careem's vehicles, guarantees that personal data of the customers who are connected to the Careem mobile app will not be shared with any third party and log-in is secured. Connecting to the wifi is a breeze. Customers see short commercials, and login with their mobile number and OTP (one time password) for new users.
WiFi10X is powered by Etisalat's state-of-the-art mobile network and world-class Network Operations Center in the UAE.
Adib Samara, Head of Business Development at Careem, said, "Careem is delighted to sign this milestone agreement as it reflects our commitment to provide secure, high-speed communication to all Careem patrons on their journey. This agreement is another vital step forward in making Careem one of the safest and trusted online platforms in the region."
Dr. Mohammed Alketibi and Rajiv Dutta, Co-Founders of Snapit Digital, said, "We are excited to offer our premium service, WiFi10X, to Careem. WiFi10X has been conceptualized and designed by Snapit Digital, and is approved and fully integrated with Etisalat's network. Our aim is to exceed customer expectations with free high-capacity internet access for those riding in a Careem vehicle, and deliver 10X experience that re-imagines how customers consume WiFi service while on the move in the UAE."
Etisalat is offering the in-vehicle WiFi as-a-service via a seamless ultra-speed modernised mobile network, state-of-the-art IoT command centre, special purpose carrier-grade gateways, powerful cloud computing for hosting the digital platforms and an end-to-end managed service support model.
Esam Mahmoud, Senior Vice President, Etisalat SMB, said, "Etisalat is at the forefront of driving the digital future to empower societies, and we are thrilled to support digital innovations created by startups and unicorns in the UAE. Etisalat has worked closely with Careem and Snapit to ensure superior service and experience for Careem clients. We are committed to support the vision of Careem in Middle East and African regions, and look forward to exploring further opportunities and synergies especially in digital space, leveraging strongly all strengths and capabilities of both."
With WiFi10X from Snapit, Dubai becomes the first city in the world to introduce Front Page of the Internet – a unique and innovative digital platform that has the potential to greatly improve how brands, retailers, service providers, government agencies engage with residents, visitors and tourists in a Smart City environment, that transform these WiFi moments into happy experiences for the customer.