Saudi Railway Company (SAR) has selected Huawei as its partner for developing a smart railway and digital transformation in the Kingdom.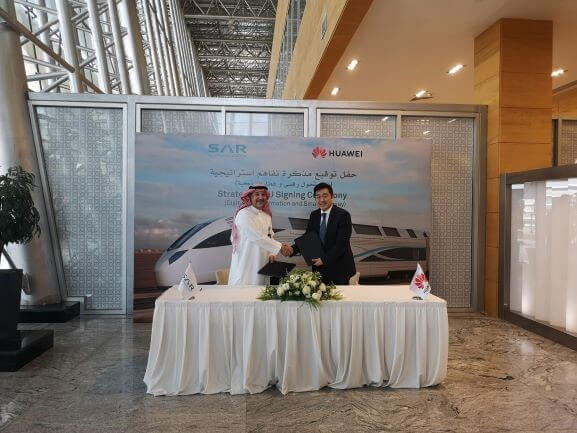 The partnership agreement, which was signed by Dr Bashar Al Malik, CEO of SAR, and Dennis Zhang, CEO of Huawei Tech Investment Saudi Arabia, stipulates that the two companies will work together to jointly design and innovate in the field of smart railway, including the application of next generation railway wireless network, Internet of Things, artificial intelligence (AI), cloud services and 5G across SAR's railway network.
The collaboration will also include training and knowledge transfer for innovative railway ICT solutions, which will enable SAR to provide a distinctive, high quality and reliable railway service across the Kingdom of Saudi Arabia.
Additionally, Huawei established its ICT Roadshow at SAR's headquarters. The Huawei ICT Roadshow 2019 showcases some of the most influential, cutting edge technologies and solutions that are at the heart of the digital transformation era. These include AI-enabled ICT infrastructure, All Flash Storage, Wi-Fi 6, Campus Network, Cloud Data Center, Software-Defined Wireless Area Network (WAN), Active-Active Disaster Recovery, and Intelligent Video Surveillance.
Dennis Zhang, CEO, Huawei Tech Investment Saudi Arabia, said, "We are looking forward to working with SAR to develop a unique smart railway system that will be designed specifically to the needs of the Kingdom. This is a major infrastructure project that will have a significant impact on the country, and we are honored to have been selected as a partner to bring our technology into making this vision a reality."