Virgin Hyperloop One (VHO) has signed a Memorandum of Understanding with the Saudi Arabia's renowned King Abdullah University of Science and Technology (KAUST).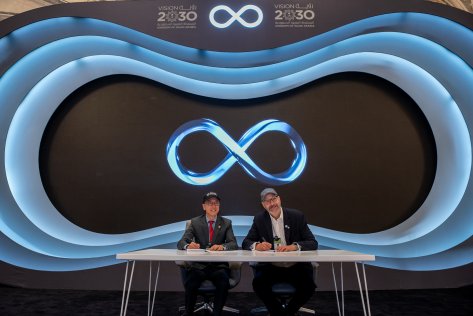 Signed at this year's Future Investment Initiative, the California-based hyperloop company and the Kingdom's leading private research institution have committed to working together on fostering the exchange of scientific and technological knowledge to further support the development of the country's technology and transportation sector.
Present at the signing on the VHO pavilion in Riyadh were Jay Walder, Chief Executive Officer at VHO and Dr. Tony Chan, President at KAUST.
Sultan bin Sulayem, chairman, VHO, said, "Saudi Arabia's vision and willingness to embrace new technology is unrivalled. Having the opportunity to partner with one of the country's most prestigious research universities such as KAUST is a significant collaboration for us. Together we hope to spur the development of the regional technology and transportation infrastructure for a connected Gulf."
The latest knowledge exchange programme is not the first of its kind between the Kingdom and VHO. Already in 2017, VHO started its journey through a technology partnership with the MiSK Foundation, through which the company welcomed a select group of Saudi students to its Los Angeles Innovation Campus. The purpose of the partnership was to further the knowledge exchange between VHO and young, aspiring Saudi students.
"Partnering with one of the most innovative technology companies in the world presents us with great opportunities," said Dr. Chan.
He added, "Having visited the first VHO test site in Las Vegas myself, I believe the hyperloop technology is hugely impressive and will truly transform the way passengers and goods are being moved in the 21st century. I have high expectation that this partnership will be mutually beneficial, given KAUST's talent pool of top faculty, students and research scientists, as well as our world-class research facilities, and the wealth of knowledge possessed by the 200+ strong engineering team at VHO. Fully aligned with Saudi Vision 2030, we see this as a unique opportunity to support our leadership's vision."
The announcement comes only days after the leading developer of hyperloop technology and King Abdullah Economic City (KAEC) have published their findings on the feasibility of creating a VHO Centre of Excellence, which includes the world's first full-speed testing track and a manufacturing facility from which Hyperloop parts would be exported to other market.
If approved, the Centre could break ground within KAEC in 2020, and thus propel the Kingdom to the forefront of hyperloop development worldwide. The report also illustrated how the Centre will drive domestic value by adding to the creation of more than 124,000 high-tech local jobs, supporting the technology sector by incorporating advances in robotics and AI and driving an estimated $4 billion increase in KSA GDP by 2030.
VHO's Walder said, "With Virgin Hyperloop One's technology we are transforming inspiration into practical innovation. We have developed patented technology and are building a strong network of public and private partners committed to making hyperloop the catalyst of a transportation revolution in years to come."