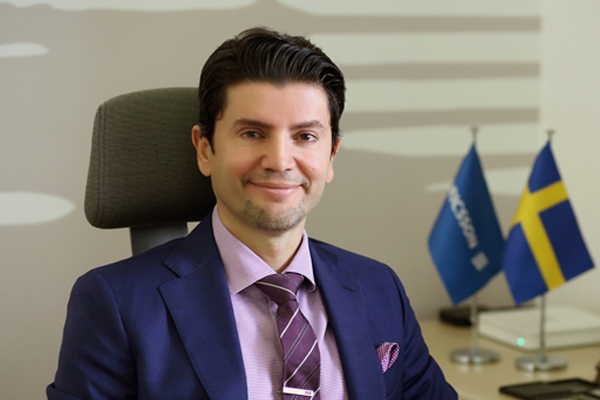 Tarek Saadi, Vice President and Head of Sales, Ericsson Region Middle East and East Africa, talks about the company's Network Society vision and the trends shaping the regional telecom landscape.
At the beginning of this year, Ericsson has announced the plans to move beyond telecom and explore the opportunities in sectors such as utilities and transport. Are you looking to become an ICT player rather than just a telecom infrastructure vendor?
Today, we are seeing a huge transformation in the operator space. They are now exploring areas where they can be different from their competitors, and at the same time improve revenue streams. In order take advantage of the Networked Society and bring more value to people, they have to unleash the power of their ICT engines in their networks – OSS and BSS.  Ericsson believes that we can play an important role as the ICT transformation partner for these operators. Over the past three to four years we have invested in tools and resources to develop competencies in system integration to make our capability and scale relevant in this space.
Do you think the networking technologies that you have built for the carrier market is now relevant to the enterprise market as well? You said you would offer system integration services in the energy sector – especially around smart grids and smart meters. Do you have any non-carrier customer in the Middle East yet?
We are definitely looking out for potential non-operator customers. We're working on smart cities, electricity and grid companies. We're working with the transport segment as well. One venture that we are working on here in Dubai is with the RTA; this is to develop connectivity between all their key segments and services.
We are considering various models to enable us to manage these services end-to-end. Not only do we sell tools and solutions, but we also provide managed services.
Why are you looking at these markets? Is it because of the synergy or because of the drop in telecom infrastructure spending?
It's because this ties us with the Networked Society vision that we have mentioned previously. To unleash the power of Networked Society, we need to ensure that we can provide our customers with the connectivity they seek. We need to be able to connect infrastructures and devices while ensuring that these technologies can communicate intelligently. We also want to make sure that our customers can gain efficiencies out of the technologies that they are using. We also aim to give them the capability to connect different types of devices while providing a certain level of security and management capability. All this ties into the Networked Society.
Coming back to the Networked Society, you aim to connect 50 billion devices by 2020. How do you see that panning out the Middle East? There are, of course, issues related to bandwidth and spectrum. So how relevant do you think is the Networked Society in this region?
The Middle East is definitely moving in the right direction. We are seeing more and more initiatives such as smart government and so on. We already saw a lot of smart initiatives being promoted in the region like here in the UAE and in countries like Jordan and Lebanon as well. So the Middle East is also taking steps toward our vision of a Networked Society.
We are catching up, and we are at a stage where operators are building the next-generation infrastructure. Today, we are seeing more and more LTE deployments and LTE subscribers. 3G now is covering the landscape of the Middle East even in places like Afghanistan and Iraq. We are seeing many developments in this area.
Isn't too early to talk about 5G?  We haven't seen any use cases that warrant this and don't you think 4.5G should be good enough for all the applications in the foreseeable future. Do we really need 5G?
If you look at the timeline where 5G is supposed to go commercial, we are talking about 2020. The standardisation is expected to be complete by 2017-2018. Now, when it comes to 5G, from a vendor and technology provider's perspective it's not just about speed. There will be a certain intelligence within the network, which can detect what kind of devices are connecting to it. If you are connecting a sensor to a network, the network will detect that, and will adjust accordingly. The adjustments in the network will allow for zero delay at a low bandwidth. On the other hand, if you are using an application that requires higher bandwidth, the network will have the flexibility to cater to that as well.
In addition to that, multiple devices will be able to communicate to one another and at the same time communicate to the network as to what the devices require. This will then enable the 50 billion devices that we are targeting for the Networked Society.
You have recently announced managed security services offering with Intel Security. Is it mainly for the telecom players?
It is also being made available to enterprise customers. We offer it to the operators, who, in turn, can offer it to their enterprise customers.
We have done this in partnership with Intel Security. We run this as managed security service on behalf of operators to make sure we have proper controls.
Some of the telecom operators in the region already offer managed security services. Where do you come into the picture in that case?
This is one service that we do end-to-end. We have other enterprise solutions that are cloud-based.  We have bought a company called Apcera, which makes platform-as-a-service solutions. Through this solution, you are basically liaise from your cloud space with developers to create applications. On top of this, we had an agreement with a company called Guardtime. This company has developed an extremely advanced solution, which can monitor inconsistencies in the data. It can immediately detect if someone is trying to breach your cloud for any confidential information. So these kinds of services are part of what we provide for enterprises.
A lot of traditional IT vendors are getting into telecom space now. Do you think the lines are blurring now?
Yes, I think so. When you talk about 5G it has an intelligence that can identify the different devices connected to the network. This is usually needed in the Business Support Systems and here iswhere we think we can add value. We have developed the first convergence charging solution, which is a very complicated but a powerful system. On top of that we have multiple solutions like PCRF (policy control), which understands what's happening in the network and can control the different elements around it. To do all this, you would require higher system integration, which Ericsson has, and that is the ICT transformation that we are talking about.
Almost all the countries in the Middle East has an LTE network, yet somehow they still are not able to monetise this. Is it because they don't package or sell it the right way? Why do you think that is?
This is a challenge not only here in the Middle East, but globally as well. We can see the traffic growing yet the revenues do not match that. It is about the manner in which operators have priced data services; the tradition has been to apply the same model that we have had for voice into data. When it comes to data, some of them are bucket prices wherein a customer pays for 1GB to 2GB a month and consume all they want. The competition then makes the bucket grow to 5GB to 10GB for a reduced price. That's why they are not monetising it properly.