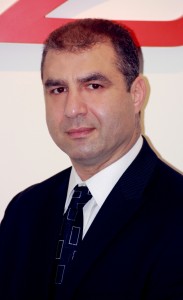 Technology has filtered down to infiltrate every part of our routine life and society at large. The Year 2012 will be remembered for many remarkable events, including the London Olympics which had 4.8 billion viewers, with digital viewers outnumbering traditional television viewers for the first time in history.
Sufian Dweik, Regional Director, MEMA, Brocade outlines below the top five technology trends that Middle East enterprises should watch out for in 2013:
Rise of "always-connected user" and death of the "transaction-based" user
Google's annual Mobile Planet smartphone study has revealed the United Arab Emirates has some of the highest smartphone penetration in the world, with 62 percent of mobile phone users in the country reporting that they own smartphones. This trend is spreading quickly across the entire Middle East with other countries like Egypt leading the pack. Globally more than 440 million mobile handsets were shipped in the third quarter of 2012, with more than 25 percent of those being smartphones, indicating the user appetite for connectivity. With the roll-out of higher-performing networks (such as 4G and LTE) and devices that offer seamless connectivity, 2013 will be the year that we see the decline of the "transaction-based" user and the rise of the "always-connected" user [A "transaction-based user" is an individual that will connect to the Internet to conduct an activity (such as to make a purchase or to stream content), and then log off. The user sparingly uses bandwidth and does not rely on connectivity for every aspect of their life.]
Internet connectivity prices will drop as operators vie for consumer loyalty, fuelling the trend for 24/7 connectivity. Businesses will engage in social media and communities to host a larger portion of their customer experience and support processes. For the entire scenario to operate seamlessly, a never-fail back-end network is crucial – for operators, businesses and users.
Software-defined networking (SDN) deployments begin – As service providers try to meet information accessibility demand by consumers, reduce CapEx (capital expenditure) and OpEx (operating expenditure) and increase service responsiveness, SDN will streamline service creation and give rise to innovative applications and services. SDN links networks and applications, enabling direct programmatic control of both networks and orchestration layers in line with end-user application needs, rather than programming around the network, as is done today. IDC predicts that by 2016, the market will be worth $2 billion (USD) a year, up from just $168 million today. SDN deployments will begin across the globe with the architectures radically decreasing total cost of ownership (TCO), and vendor innovation/support continuing to increase.
Careful cloud evaluation – The cloud will be under intense scrutiny. Businesses will evaluate the impact of cloud, its benefits, usage and ROI more than ever before. Are deployments delivering the agility and cost savings predicted? Are users benefitting? How can one measure cloud ROI when, by design, the assets are not owned by the organisation? Private cloud architectures will accelerate as IT organisations will attempt to take back control of their own assets (and budgets). IT organisations will also challenge the new breed of service providers by offering competing hosted services. This strategy will help them to bolster revenue opportunities from a market that will be worth $73 billion by 2015.
Customers bite back on vendor lock-in – Open architectures and multivendor solutions will become more prevalent in 2013 and the trend is clearly moving towards "product de-siloing". Enterprises will turn to trusted vendors to deploy flexible and scalable solutions to support mission-critical applications. Vendors need to be agile, collaborate and co-exist if they have to survive. There will be at least one major vendor casualty in the coming year.
Human shortcomings will be overcome by technology – There was a time when desktop icons did not exist. A time when a user had to manually type the name of an application in a shell-like text window to access applications. This was time-consuming, error-prone and frustrating, but the desktop icon revolutionised the user experience. Innovations such as this overcame human shortcomings and simplified the user experience. There will be many more such innovations over the next 12 months. Think of voice-command devices, and the fact that modern smartphones can deliver communications, content and compute services in a single form-factor. This kind of human multitasking would not happen, but technology has innovated to such a degree that it is now second nature to even the most basic user.