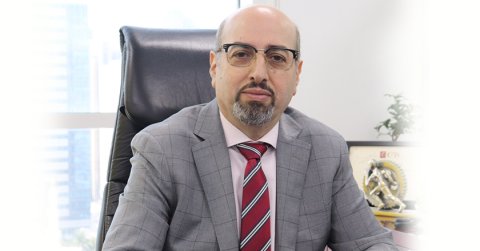 By Asef Sleiman, GBS 
As a veteran IT industry leader with diverse strategic business experience, Asef Sleiman spearheads the growth and success of GBS (Gulf Business Solutions) in the Kingdom of Saudi Arabia. With a lengthy career centred on enabling organisations to benefit from software designed Infrastructure, cloud technology, cyber security, and digital transformation, he has also authored notable features for some of the most prominent regional tech publications.
With Asef serving at the helm of the company as General Manager, GBS has gained well-deserved recognition as the partner of choice for businesses seeking transformative technology-enabled solutions and best-in-class services. Gaining the spotlight for its ability to help clients across the Kingdom achieve mission-critical objectives, the Company's unique positioning as an "innovation partner" is underpinned by its highly personalised and consultative approach.
As the official KSA arm of regional technology pioneers "CNS Middle East", GBS' expansion across the Kingdom benefits from CNS' 30+ years strong legacy of leadership and expertise in the burgeoning Cloud tech domain. CNS' professionalism and commitment to excellence have earned the Company an unrivalled reputation for delivering solutions that drive business growth and success. This is a tradition, which GBS now proudly extends to the KSA market by leveraging CNS' long-term partnerships with the best-in-class global cloud technology leaders.
Having already enabled prominent Government and corporate entities in Saudi Arabia to realise their untapped potential, Asef Sleiman outlined GBS' service delivery promise by stating that "We understand the challenges faced by businesses in today's rapidly evolving digital landscape and are committed to helping them thrive by offering comprehensive, cutting-edge solutions tailored to their specific needs. With our extensive technology portfolio, clients gain all the necessary tools and expertise under one roof, which simplifies their technology procurement and implementation processes. We also take pride in delivering end-to-end support services throughout the technology lifecycle. Our support teams work tirelessly to address any concerns, provide timely assistance, and ensure that our clients' systems operate smoothly and efficiently".
GBS' cloud portfolio offers scalability, flexibility, cost-efficiency, and accessibility to resources on-demand, effectively empowering organisations to leverage shared infrastructure, reduce hardware and maintenance costs, and ultimately establish more robust foundations for digital transformation. But beyond cloud tech, what makes GBS' offering stand out is its ability to deliver the strategic integration of two other key elements: namely Cybersecurity, and Digitalisation. Recognizing the interconnectedness of this "golden triangle" and delivering a powerful synergy between all three elements is what allows GBS to deliver optimum organisational success.
As organisations increasingly rely on digital systems, GBS' ideal cybersecurity solutions safeguard sensitive information, ensure privacy, maintain business continuity, and protect against cyber threats such as hacking, data breaches, malware, and ransomware attacks. On the Digital transformation front, GBS assists organisations to adopt automation, improve decision-making through data analytics, enhance customer experiences, optimise operations, and drive innovation and competitiveness. Technologies such as artificial intelligence (AI), Internet of Things (IoT), big data analytics, machine learning, robotic process automation (RPA), and blockchain are fully leveraged to digitise workflows, analyse data, and enable new digital services.
With the growing adoption of digitalisation shaping the Kingdom's commercial and business landscape, Asef Sleiman and his team look forward to establishing GBS as a regional one-stop shop for innovative technology-enabled solutions and services. They remain on course by perpetually venturing beyond the ordinary and delivering a true difference.