By Ashraf Yehia, Managing Director, Eaton Middle East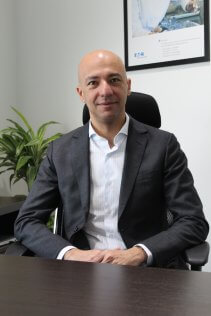 As our world is challenged by climate change, pollution, and population growth, the demands of power management are increasing and changing fast. Nearly half the global economy is aiming to be net-zero by 2050.
Traditionally, power management has focused on clear product lines—circuit breakers, panels, meters, UPS and so on—that protect people and equipment according to agreed standards. As such, it was fairly straightforward to define new products and launch them to customers who, in many cases, already knew what to expect.
Today's market is much more complex. The acceleration of renewable generation, electrification, decentralisation, and digitalisation is completely changing the energy landscape, creating both tremendous opportunities, as well as challenges.
On the cusp of this energy transition, consumers are now facing entirely new problems and often do not know how to approach them. This could include anything from utilities that have to manage two-way power flows across the grid, to building owners that need to keep pace with the 30% year-on-year growth rate of electric vehicles, or data centre operators that want to harness the potential of energy storage to maximise their use of renewable power.
These new problems require new solutions—not just in terms of the technologies customers need, but also in terms of how we support them, with a transition from passive protection towards increasingly active power management offerings needing our lifetime involvement to extend and optimise. To help people realize the benefits of this fundamental revolution in how power is distributed, stored and consumed, we're accelerating our innovation efforts with a 3$ billion commitment.
Leveraging the power of data
With the exception of ongoing maintenance, our role used to end after our power management products were installed. Now that's when our work really begins thanks to the new digital capabilities that form the bedrock of intelligent power.
Without new digital capabilities, our customers could never hope to manage more flexible and responsive power grids, distributed renewable generation, smart electrical vehicle charging, or benefit from the other revenue opportunities (such as grid stabilisation services) arising from the energy transition. In the future power system, we need to be metering, controlling, and coordinating everywhere.
We're harnessing a swathe of digital technologies—connected devices, data pipelines and models, and insights—to transform power management and enable more reliable, efficient, safe and sustainable energy consumption. Our intelligent systems help customers establish a clear data strategy and then take action to optimise power use. This moment of action is when customers see the greatest value from our offerings: saving money, growing revenues, becoming more sustainable.
Our approach to reinventing the way power is distributed, stored and consumed is called 'Everything as a Grid'. We're helping customers understand the challenges and opportunities in the new energy value chain, enabling them to embrace electrification and to integrate renewables and newly electrified applications effectively. We're also applying our expertise in microgrids, digitalisation, energy storage, and power management to help build a grid that's more intelligent, adaptable, and stable.
Digital capabilities are critical throughout all this, empowering us to understand customers better, to support them more efficiently, and to adapt to the demands of a market that's moving faster than ever.