Marshall Choy, Oracle's vice president of systems solutions engineering, tells James Dartnell about the firm's incorporation of security and analytics into its latest microprocessor, and how it plans to balance its IaaS and server interests.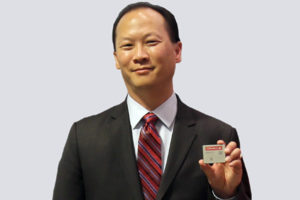 When were you last in the Middle East and what changes have you noticed since then?
I was last here in December, and it's got much hotter! Oracle's local team is continuing to have great success, especially across our engineering systems and server portfolio, and we have no reason to think that will change. A lot of that results from having a highly skilled sales and support function that is well connected to our headquarters, which we don't necessarily have across all our worldwide offices. That connection has been made over many years, and the relationship has grown over time. We've just had a team come over from HQ to deliver some enablement activity in anticipation of the roll out of some new products locally.
Has your announcement to build a data centre in Abu Dhabi affected customer sentiment?
I think it will change things. If your only inhibitor to public cloud is that you need customer data residing in the country of origin, then that inhibitor is now gone. It doesn't solve everything for everybody, but no solution will, which is why we're not a single solution company. At the end of the day, our goal is to be able to provide whatever customers need.
Is your worldwide decline in hardware revenues a major concern? Is this region consistent with the rest of the world in that respect?
I can't talk about revenue numbers, but in general we have a healthy business across the board, so have no concerns there. There will always be challenges in various segments and markets. At any point in time you'll see some areas that are improving, and some that are improving at a slower rate.
Is there a conflict between Oracle's aggressive pursuit of Infrastructure-as-a-Service sales and its server business?
That's an interesting question. The answer to that would be different from virtually any other vendor on the planet. Oracle is the only vendor that provides a complete solution, ranging from on-premise hardware and software to a public cloud solution. All of our traditional hardware competitors don't offer cloud services, and vice versa. Unlike other vendors, we're designing our hardware and software to run in our Oracle public cloud, so we can provide those as cloud services. Every hardware infrastructure platform that we're building to run in our public cloud, we can also sell to run on-premise.
Should things change, customers can seamlessly move workloads back and forth. From an engineering perspective, the advantages are significant. Engineering runs our public cloud, and runs in our products and cloud deployment.
Tell me about your SPARC S7 processor that you've recently released.
It's not just another SPARC announcement, which would've been a new chip and set of servers. This time it's a new chip in three different forms of consumption: public cloud services that are now available as dedicated compute IaaS, a new engineered system – the Minicluster S7 – and two new servers, the S7-2 (1u) and the S7-2L (2u).
We've built on our existing M7 portfolio. The M7 processor comes in the form of mid-range and high end servers, and the M7 SuperCluster we announced in Fall 2015. We're not replacing this line, but expanding the M7 line with S7-based products, to extend our reach to customers for different workloads.
The S7 has achieved x86 commodity cost points, and we've done this through engineering and integration to maintain the same level of enterprise functionality and differentiation that we deliver with the M7, with Software in Silicon.
We've taken things around security and analytics acceleration, and implemented things typically done in software into the microprocessor. We've put I/O and memory controllers into the microprocessor in order to give lower latency, higher bandwidth, and therefore better transactional throughput. It costs less, because you have less components. The notion of price comparisons with x86 no longer exists, so you can have a business-related conversation rather than the distraction of who's cheaper.
With the MiniCluster, the software and design work we've done has brought a lot of things that are typically enjoyed by high end and mid-range users to virtually any customer regardless of their capabilities and skillsets.
M-7-based systems are deployed in high end and mid-range environments, where customers have very sophisticated skillsets for general systems admin. The MiniCluster is ideal for remote or branch offices and SMEs.
We've taken over 200 previously manually implemented security controls and implemented them in a way that allows customers to secure their system with click of a mouse.
Don't you think that's a complacent approach to security from a processes perspective?
We're not saying security is guaranteed; that's a great invitation for every hacker out there. It's been an interesting discussion that we've had with the three-letter agencies in the US, who have come to the realisation that Oracle has added additional layers of protection and security to its hardware that did not exist before. The exercise of securing systems is non-stop. We think we've solved a performance issue by and large, but the next issue is security. We don't have a separate group that's focused on point security solutions per product. We've made security a part of the development lifestyle, for all hardware and software products. That means it's seamless across our products. Our advantage is having the whole stack of hardware and software. In order to enable application level benefits, sometimes you have to do very low level integration work. Our ability to do that differentiates us.
From what you've seen, does the Middle East have a preference towards on-premise or cloud deployments?
It varies across industries. Banks and telcos are obviously regulated, and you have sovereign data rights which can be inhibitors for public cloud. I would broaden the answer to your question and say that cloud adoption as a whole is advancing quite nicely. Even for customers where we see constraints around regulation, we see a lot of private cloud infrastructure activity.
Does the lack of resources in this region concern you?
No, it doesn't. This is exactly the type of region that a system like the MiniCluster was designed for. We have eliminated 90 percent of administration and the requirements in terms of skills needed to operate the system, so the notion of needing highly skilled people goes away. We think that will play very nicely in the Middle East.
The journey to cloud won't happen overnight, it's not a magic pill that you swallow and it solves all your problems. While it is very exciting, it also presents customers and vendors with a lot of challenges and opportunities. It will take 5-10 years. That's not to say there won't be computers or data centres and everything will be done on cloud. Customers are figuring out what workloads they want to acquire as-a-service.