By: Saeed Ahmad, Managing Director, Middle East and North Africa, Callsign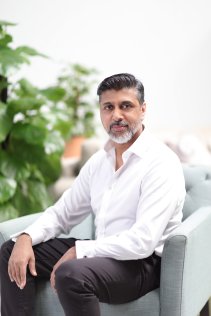 One of the big changes the pandemic brought was the way we shop. Online commerce has seen tremendous growth over the past two years. In the UAE alone, the value of the retail e-commerce market rose 53 per cent in 2020, reaching a record $3.9 billion. However, fraudsters have also moved online putting retailers on the front line in fighting fraud.
The typical response to fighting fraud is to introduce more layers such as SMS OTPs to the customer authentication processes to protect both consumers and the retailers' business. But adding unnecessary friction to the shopping experience makes it hard to complete a transaction.
The root of the problem is how retailers identify and authenticate genuine consumers and prevent fraudsters, bots and other threats from defrauding their business. Today, most authentication processes look for fraudulent activity.
The problem is a fraudster using genuine stolen credentials looks like a genuine user and whilst introducing the use of one-time passcodes either via SMS or email adds a further layer of security, it also adds friction to the user journey. Ultimately, knowing the passcode still doesn't prove that you are who you say you are and worse still, we're now seeing fraudsters use those same channels retailers are using to authenticate genuine consumers to execute fraud.
These fraudsters are leading to a decrease of trust in brands and ultimately harming organizations' reputations.
Our research revealed 66% of people in the UAE have received messages from scammers masquerading as their bank. E-commerce and retail are, unsurprisingly, not far behind with 50% of UAE customers receiving a scam message purporting to be from retailers.
And in the UAE, people are more likely to receive an email or sms from a fraudster than from a family member. And the rest of the world isn't far behind. Other channels have experienced similar development patterns, and the direct result of this is that people's trust in all these channels has dwindled.
With the increase in scams impacting customer loyalty, executives must be equipped to develop better and more secure authentication strategies and protect not only their customers but also their reputations. Our global study of consumers revealed that just receiving a scam message purporting to be from any brand is enough for 45% of them to lose trust in the organisation regardless of any real association with the message.
If customers have a negative online experience, it impacts whether they continue with their purchase, and authentication is usually the first touch. In fact, research by the Baymard Institute found that seven in ten customers abandon purchases because of their bad experience.
But if retailers place consumers at the heart of a passive authentication process, starting at the point of login, they can enhance the online experience. The difference is they must look to positively identify genuine users instead of looking to identify fraud. By positively identifying genuine users at login, retailers can recognise returning customers from the get-go, and offer products and services tailored to the user from the outset of their user journey.
Customers can then checkout seamlessly, reducing drop-offs, but still securing the sale. For many retailers, most drop-offs happen at checkout, and so any authentication at this point puts up barriers for the customer.
To achieve this experience, retailers can utilise passive behavioural biometrics with device, location and threat detection. Behavioural biometrics solutions assess millions of contextual data points, about a user's unique behaviour, such as the angle a user holds a device, swipes a mobile device, keystroke patterns or how a user's mouse moves on a desktop computer.
Data from behavioural biometrics can also be obfuscated preserving privacy unlike many other forms of authentication. And because behavioural biometrics are passive, the user is authenticated without adding extra friction to user journeys.
Layering this behavioural intelligence also achieves multi-factor authentication and removes any single point of failure for the fraudster to compromise.
The retailers that can authenticate genuine users online and identify fraudsters in a friction-freeway will build closer relationships with their customers, offer personalised experiences and increase loyalty.