Asef Sleiman, CNS Abu Dhabi & ITP Sales Director at CNS Middle East, spoke to CNME Editor Mark Forker about the company's expansion into the UAE capital, how its overall strategy is closely aligned with that of shifts fueling change in the local economy – and what he believes will be the key drivers of new growth and innovation over the next 12 months and beyond.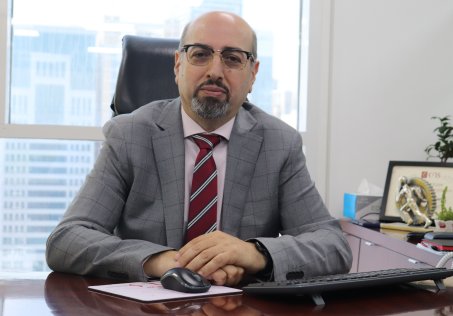 CNS has established itself as the go-to technology company in the region and are known for being agents of transformation. It has the knowledge and expertise to power the future by providing digital solutions that are essential to support all enterprise and human development in the fast-paced and ever-evolving digital economy.
CNS, is also one of the most trusted IT companies in the region, and whilst growing and managing a robust pool of supplier-partners for the benefit of their clients, they refuse to rest on their laurels and are constantly striving to re-inventing themselves and improve their business outcomes year-on-year.
Asef Sleiman is an extremely well-respected tech leader, and he has enjoyed a very fruitful career in the Middle East, and as seen by his peers as a thought leader in the IT ecosystem. He has been tasked with the responsibility of overseeing CNS's expansion into the Abu Dhabi marketplace, and it is one he is relishing.
In a candid interview with Mark Forker, he outlines their vision for their Abu Dhabi project, their growth strategy for the future – and what technologies he believes will fuel change in the next digital decade across the Middle East.
Can you tell us more about your plans to expand CNS's market presence in Abu Dhabi – and why the company has decided that now was the right time to do this in the capital? 
As part of our expansion plan we decided to double down in Abu Dhabi to increase our business focus, we shifted our offices in Abu Dhabi to a new location with state-of-the-art facility with a fully-fledged Network Operations Center, we doubled our team there in both sales and operations, in addition to invest more in the new talent people to drive this in Abu Dhabi.
Why now, it is simply after pandemic and the shift in economy and the role of technology, there is commitment from Abu Dhabi Government toward transforming most of the public services and development like government services, healthcare, banking and O&G.
We as CNS have always played a big role in the IT industry in Abu Dhabi, and we believe we can contribute hugely to the new era of business transformation, which is part of Abu Dhabi Vision.
Can you outline to our readers how your plans for future growth are aligned with the shift that has occurred in the economy here in the UAE? 
We observed the macro-level influence of Covid when our information technologies came to the rescue of many businesses.
The popularity of Expo2020 has practically made 'Digital Innovation' a business fundamental. Irrational (skepticism) and rational (switching costs) entry barriers have crumbled as leaders have witnessed the benefits of the technology and gained an understanding of the costs incurred against promised ROIs.
As a result, Abu Dhabi markets are opening up to the idea of digitalisation, so qualified IT specialists who can lead their journey to a digital business environment successfully, with minimal disruption or costs, will be first to step through newly-opened doors for business.
After successfully transforming our banking clients' customer-user-experience with cutting-edge technologies, we have a much more receptive audience. As an integration partner, our goal is to leverage the increased access we have with our clients to understand their business needs better and push the envelope of innovation.
Essentially, as the UAE economy grows, it will rely more heavily on the power of automation and AI to deal with increasing volumes of data effectively.
This means putting more trust in the digitalisation journey. CNS has already responded to this shift by updating our company infrastructure, devoting an entirely new Digital Transformation department to keep abreast of developing technologies that we might use to enhance our clients' speed, accuracy, efficiency, and economies.
In your expert opinion, what do you believe will be the key trends driving new innovations in the IT ecosystem in 2022? 
Helping clients unlock the value in their data will become a significant priority for CNS in the coming decade.
As an IT service provider, our role in providing solutions for clients has shifted from communication tech to data tech. Now that the work-from-home culture has become near-fully embedded and everyone is comfortably connected, everyone is catching up with previously-emerging techs such as AI, IoT and Blockchain. All of these hinge significantly on automation, and that's where we come in.
Businesses might be aware of these systems' advantages, but you need someone to put them all together, so they work autonomously to realise the absolute value of the technology. Consumers are happily handing over vast amounts of personal data with the impression that in return, they will enjoy a personalised experience – companies that can't live up to that expectation will quickly become irrelevant.
For this purpose, setting up an infrastructure that allows a business to mine data from a broad network of information sources is firstly a complicated process (the simple truth is that very few companies employ people with the skills-sets to implement or manage these high-level systems) and secondly presents a significant financial outlay. With an IT partner that already has the resources and experience, such as CNS, one can mitigate both limitations and start reaping the benefits almost immediately.
Can you reveal some of the major projects that CNS will be leading in the UAE over the next 12 months?
We are engaged in many initiatives in the market, but I cannot disclose the details of the project. However, I can share we are investing our focus in the public sector, oil & gas, Healthcare and transportation industries, as we see huge scope for growth all those industry verticals in the coming years.