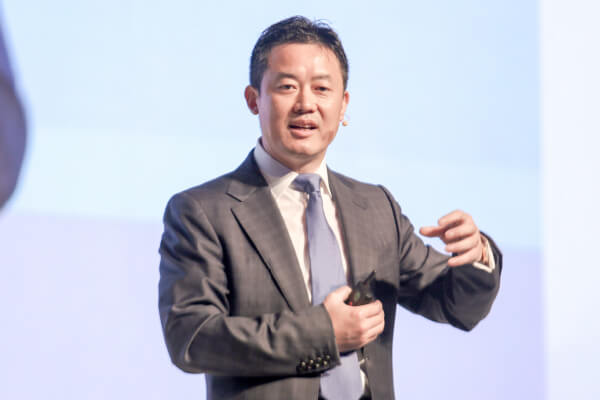 Huawei Middle East's president Charles Yang gives his take on building safer networks and securing the path to an intelligent world.
How will Huawei work to ensure security concerns expressed by the US around 5G do not affect its customers and partners in the Middle East?
Although Huawei has been banned from the US and Australia, we believe different countries and carriers have their own ideas and policies. The UK, France, Germany, Italy and Portugal—among others—are welcoming Huawei in their own way. Countries like Hungary even sees Huawei as strategic partner despite security concerns. We believe the facts tell the true story.
By the end of March, we had signed 40 commercial contracts for 70,000 5G base stations across the world. All countries and carriers can make their own judgement. It may be that true cybersecurity can only be achieved through Huawei. 5G is actually more secure than 4G. One example is encryption. 4G uses 128-bit encryption, while 5G uses 256-bit encryption. In order for 5G to be compromised by its encryption being broken, it needs 2 billion years.
5G concerns were largely due to accusations that the US made which were never proved with solid evidence. They have put Huawei under the microscope and are using all of the power at their disposal to contain our business, including political and diplomatic pressure, selective use of the law, and launching an all-out smear campaign. It's without precedent.  It's not often you see actions like this from a big country against a company. We believe fairness needs to be proven in what they claim and that truth will be observed over time. It needs to be proven with evidence.
Despite all this, we continue to have faith in the openness and fairness of the US judicial system. As these legal proceedings unfold, we trust the truth will eventually be known.
In terms of cybersecurity, we need to refer to the past 30 years. We've served over 3 billion users in over 170 countries and maintained good performance and stability. There are no backdoors installed into Huawei equipment and we'll never engage in espionage activities. Since we have operated in the Middle East for 20 years, our customers trust and understand Huawei, and that's why our business here has not been impacted by these accusations.
What are Huawei's top tips for building a culture of digital security?
Cybersecurity is a global challenge that we all share.
To ensure cybersecurity, industries and regulators need to come together to develop unified standards and verification mechanisms. These should apply to all equipment providers and carriers. Equipment providers are responsible for making secure equipment according to industry standards, and carriers are responsible for ensuring the secure operations of their own networks.
In that spirit, we have established effective cybersecurity collaboration and communication mechanisms with the governments of many countries, including the UK, Canada, Germany, and France. We also opened a Cyber Security Transparency Centre in Brussels in March 2019. This new centre will become a platform for our communication and collaboration with governments, customers, and industry partners in Europe. At the centre, our customers can better understand the security of Huawei products and solutions by testing and verifying the security of our products based on agreed standards.
What do you believe are the biggest cyber threats in existence today?
We believe that, as a technology provider, it's our responsibility to build security through innovation & enhance security. A safer network is our common obligation. We need to make global standards for network security and make sure it works for all industry players.
For Huawei, we are taking the initiative to transform our software engineering capabilities so that we can provide our customers with more secure and trustworthy products. Our aim is to help customers more deftly adapt to future needs.
Moreover, the ICT industry involves very complicated software and hardware systems, in which vulnerabilities are difficult to avoid. Huawei has established a product security incident response team, or the PSIRT Team, which is a specialised global team responsible for collecting, troubleshooting, resolving, and disclosing product vulnerabilities according to ISO/IEC 29147 and ISO/IEC 30111 standards. The vulnerabilities identified by HCSEC have already entered Huawei's vulnerability management process.
Tell us about Huawei's portfolio of cybersecurity products and services today.
Over 30 years, none of our customers have ever had a cybersecurity incident, and Huawei continues to invest billions in internal and customer-facing cybersecurity efforts.
At Huawei Connect 2018, Huawei released HiSec, a leading intelligent security solution. Based on the Identify, Protect, Detect, Respond, and Recover (IPDRR) architecture, HiSec provides customers with intelligent, efficient, and future-oriented end-to-end security, offers comprehensive protection and provides public-security capabilities for IoT, SoftCOM, private cloud, Safe City, and 5G solutions.
Huawei are also mindful of advanced persistent threats (APTs) which use customised malware, zero-day vulnerabilities, or advanced evasion technologies to break through traditional defenses, such as firewalls, intrusion prevention systems, and antivirus devices. Huawei's APT Defense and Big Data Security Solution uses a big data system to collect network-wide information, perform multidimensional assessments, accurately identify APT attacks, and effectively prevent attacks from compromising core information assets.
Huawei also weaves security advancements into its wider portfolio of solutions, which can be seen in areas like Wi-Fi 6, which will meet future development requirements in terms of bandwidth, latency, connection quality, transmission efficiency, but also heightened security protocol.
Ultimately, Huawei has built more than 1,500 networks together with our carrier customers over the past three decades. We have a solid and proven track record in security including product anti-attack and anti-penetration capabilities.
Are cyber-attacks on critical infrastructure likely to increase in the coming years?
Moving forward, technology will continue to evolve, and new security risks will emerge, which will require more open and candid communication and closer collaboration.
Cyber security is a matter of technology and management. However, the US government has politicized the issue in order to hinder the deployment of advanced 5G technology. This will ultimately hurt consumers by limiting their right to the best technology available. We need to get back to rational discussion and work on real solutions for real challenges.
In the future, we will build similar open and transparent security management mechanisms. We will work even more closely with governments and our customers, and have more dialogue about the value of ICT and what we can do, collectively, to increase protection.
Will future warfare be conducted in cyberspace?
For Huawei, our priority is to closely collaborate, innovate and establish international standards with other global organisations to ensure that the integrity and security of our digital solutions and services meet or exceed the needs of our customers — providing the confidence required by their own customers.
At the end of 2018, our Board of Directors approved a formal resolution to invest an initial budget of USD 2 billion for a company-wide transformation aimed at enhancing our software engineering capabilities. As part of this transformation, we will re-factor all of our legacy code against future-proof standards, make our code easier to read and upgrade, and build trust and quality into all of our products and solutions.
Are organisations in the Middle East prepared for the next generation of cyber-attacks?
Ultimately customers make their own decisions, and our role is to offer them the best selection to choose from. Our unmatched portfolio of products and solutions gives us confidence that organisations will continue to choose us.
Many of our Middle East customers have been working with us for over two decades. They know Huawei best and know what motivates us.
We also understand that emerging technologies from 5G to AI have the potential to help GCC governments reach their long-term development strategies to become diversified, knowledge-based economies through digital transformation.
We want to empower our partners and customers here in the Middle East to make the most of these new opportunities and forge ahead on the path to an intelligent world.