Mohammed Al Kaff Al Hashmi, Co-founder of Islamic Coin, spoke to CNME Editor Mark Forker, to explain the mission statement of the crypto company, what differentiates the company from other market players – and the innovation and philanthropy it is driving for the Islamic Community and humanity.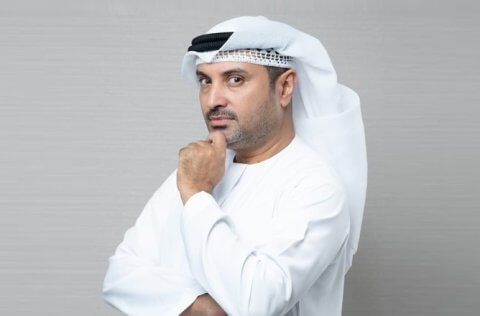 Mohammed Al Kaff Al Hashmi is one of the most respected technologists and engineers in the Middle East IT ecosystem.
With a remarkable career spanning two decades, he has attained remarkable success and made significant strides in various ventures. Commencing his professional journey with the esteemed global telecommunications vendor Huawei, he swiftly ascended to the role of CEO at Netaq for E-Solutions. Demonstrating his exceptional entrepreneurial acumen, he went on to found MCPM MENA, co-found MCPM Holdings, and establish UI Ventures, cementing his reputation as a visionary leader with a wealth of expertise and accomplishments.
However, in 2021, he co-founded Islamic Coin along with Andrey Kuznetsov, Alex Malkov and Hussein Mohammed Al Meeza.
Islamic Coin has been branded as a purposeful community crypto asset.
It's used as a native coin on the HAQQ blockchain – and each time a new Islamic Coin is minted, 10% of the issued amount is deposited into a special Evergreen DAO for further support into projects that are beneficiary for the community, or given to charities.
Islamic Coin is the first introduction of a coin that brings direct economic value to a community.
CNME managed to secure an exclusive interview with Al Hashmi in an effort to better understand the concept being proposed by Islamic Coin and what makes the project so unique in comparison to other cryptocurrency players in the marketplace.
Al Hashmi began the conversation by outlining what the mission statement of the company is and how it has been designed to preserve and protect the values of the Islamic finance.
"A better starting point would be to provide a clearer understanding of the intricacies of Sharia finance. Sharia finance is the only financial system that actually cares about ethics and values and has them embedded in its principles. But, what exactly are these principles? Sharia principles revolve around the community, so Sharia finance is a community-first system. In Sharia finance, the charging of interest is eliminated, and this is designed to protect the community. It simply does not make sense to burden individuals who are already in a financially vulnerable position and seeking assistance with interest charges when they are reaching out for help," said Al Hashmi.
As Al Hashmi pointed out that type of financial system creates inequality and reflects negatively on the community and fundamentally goes against its principles.
He pointed out the impact of blockchain for promoting greater financial transparency.
"Traditional financial players' approach often creates inequality, but our approach is guided by a set of values centered around ethics. Their metrics are driven by numbers and profits, and this is what makes Sharia finance distinct. When considering the technology best suited for implementing our Sharia finance model, blockchain emerges as the best choice. You may ask, why blockchain? There are multiple reasons: it's reliable, decentralized, traceable, and governed by the community, which ensures a high level of transparency. Furthermore, with the advent of smart contracts, we are able to conduct transactions and dealings that are defined by Sharia finance with utmost efficiency and effectiveness," said Al Hashmi.
Al Hashmi reinforced his view that the mission statement of Islamic Coin is to better serve the Islamic community, who he feels are underserved.
"In response to inquiries about why we are pursuing this project, we have a community of 1.8 billion Muslims all over the world, alongside many non-Muslims who adopt ESG and Sharia finance principles. Considering the diverse range of products and the substantial size of our community, we are presented with a remarkable marketplace valued at $7 trillion in total, with $3 trillion representing the Islamic finance and $4 trillion accounting for Halal products. Recognizing that our community has long been underserved, we are committed to rectifying this imbalance, and we believe that the best way to achieve this is through leveraging the power of blockchain, crypto and smart contracts," said Al Hashmi.
Technological innovation and philanthropy are key components of the Islamic Coin model, and Al Hashmi went into more detail on the capabilities the HAQQ blockchain platform sits on top of.
"HAQQ blockchain utilizes a Proof-of-Stake consensus mechanism, and is compliant with Sharia finance. Its foremost value proposition lies in being a clean platform. If you prioritize ethics and values and adhere to Islamic finance practices, you will find HAQQ to be the ideal hosting platform for your project. Choosing any other blockchain, you may find a variety of good projects spanning diverse sectors such as business, health, or education, but you may also find gambling and casino projects. Such an environment is not conducive to fostering ethical projects," said Al Hashmi.
Al Hashmi highlighted the role played by its Sharia Oracle technology and how it drives philanthropy for the Islamic Community.
"We have developed a cutting-edge technology known as Sharia Oracle which helps to keep the HAQQ blockchain a clean platform. As a decentralized blockchain, you can deploy any project on the blockchain, but if you want to gain the community's trust and get labeled as Sharia-compliant, you have the option to apply for Sharia Oracle. The process consists of two phases: community approval and Sharia board approval; successfully passing both phases results in your project being labeled as Sharia-compliant. Now going a little bit further, the philanthropic part of this. 10% of every minted coin is allocated to the Evergreen DAO. Evergreen DAO will be used to support the projects of the community and make contributions to charities, education, and important research. So, it's a win-win situation for everyone involved. We are empowering the community, but at the same time we remain committed to supporting our ethical values, giving back to every sector within the Muslim community," said Al Hashmi.
Al Hashmi then switched focus to the cultural shift that had taken place, which has resulted in a surging demand for Islamic compliant crypto products – and ultimately what makes them different from other crypto companies.
"First of all, when discussing the current cultural shift, I find the term 'cultural shift' fitting because it highlights a departure from the traditional financial culture that primarily focuses on numbers rather than community. As mentioned earlier, what sets us apart from other projects and financial institutions is our genuine concern for the community and our vision which is deeply rooted in philanthropy and giving back. From a business standpoint, we have a niche market, a huge community and a large market cap. We've never seen any Islamic financial entity file for bankruptcy. It's a high-potential marketplace that we operate in, with a minimum of 20% growth each year," said Al Hashmi.
One other key differentiator for Islamic Coin is the move away from centralisation to decentralisation.
"What also differentiates us from other players in the crypto space is our focus on not just Sharia finance and halal products, but on the entire lifestyle of Muslims, seamlessly integrating it with web3 technology that offers transparency and reliability. With a steadfast focus on making Muslims' lives better, we're developing projects that address Muslims' social needs and simplify their day-to-day tasks, improving the quality of their lives," said Al Hashmi.
He concluded a wonderful conversation by again highlighting the impact its Evergreen DAO is having on the Islamic community.
"As I said, 10% of every minted coin goes to Evergreen DAO, and that DAO will support the community's projects across all industries. It provides greater transparency as well, so all the stakeholders within the community are able to see how the capital is being reinvested into the Islamic community. It's also important to outline that none of the co-founders of Islamic Coin have any control, say, or influence over what projects to be supported by Evergreen DAO. We maintain a neutral stance, and the governance of this initiative rests solely in the hands of the community. Every project is voted on, so there is a full democratic process in place. If a specific project receives sufficient votes for funding, it then proceeds to the Sharia board for evaluation, and if it is ratified then it gets the grant. The co-founders have no influence over this decision-making process, it is driven by the community for the greater good of the community," said Al Hashmi.