CNME Editor Mark Forker secured an exclusive interview with Mohammed Hilili, General Manager, Lenovo Intelligent Devices Group, GULF, to find out how the IT leader has mitigated the impact of COVID-19 for its channel ecosystem, the capabilities of its new Lenovo 360 framework – and the skillset channel partners now need to excel in the multi-faceted digital economy we now operate in.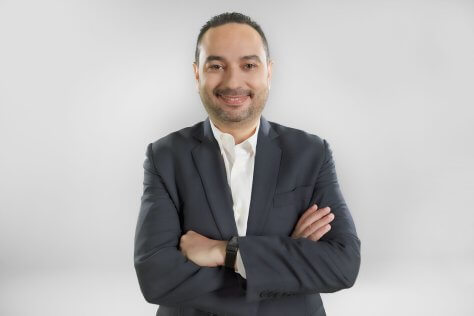 Lenovo are undoubtedly one of the most innovative IT and technology companies in the entire world since their inception in 1984.
Innovation is infused into every single facet of their organisation and that has fostered and cultivated an environment that has allowed the Chinese conglomerate to continue to flourish in an era labelled as Industry 4.0
However, a critical component in Lenovo's success, particularly across the Middle East region is its burgeoning channel ecosystem. CNME spoke to Lenovo's Mohammed Hilili to learn more about the relationship that exists between the world's largest PC manufacturer and its channel partners.
It has been well-documented how the COVID-19 pandemic completely disrupted every global industry and fundamentally reshaped the way we live, work, and learn.
Lenovo is a company that has always adopted a 100% channel first strategy, as see it as an extension to their existing team that is on the ground, Hilili explains this in more detail.
"Our approach is a very strategic, ensuring flexibility and collaboration to ensure our end customers are receiving the best-in-class service from both Lenovo and the channel. This approach has proven very effective, especially during the volatility of the pandemic. Also, with the pandemic creating an accelerated need for digital transformation across the region, we made sure our channel ecosystem was fully supported from channel enablement programs, online trainings, and co-marketing. The pandemic also created a higher need for services, which meant that we had to work closely with our channel community to create new opportunities for growth," said Hilili.
There has been much fanfare about Lenovo's new channel framework entitled 'Lenovo 360' and that has been designed to encourage the channel to deliver Lenovo's portfolio of products as a service.
Hilili highlighted predictions compiled by a recent report by IDC as to why there is such a demand for a framework like Lenovo 360 from within the channel community.
"If you examine IDC's predictions for the META region for 2022, then it indicates clearly that spending on security (hardware, software, and services) will grow by 7% to top $3.76 billion. In addition to this, spending on public cloud services will grow 27.3% to surpass $6.8 billion and SaaS apps will account for 41% of public cloud software spending. Investments in AI will grow 24.7% to total $1.2 billion, whilst spending on RPA (Robotic Process Automation) software will grow 47.5% to cross $159 million – and Big Data analytics will grow at 8.1% to reach $3 billion. Also, it's important to note that the region's IT spending remained resilient throughout the pandemic due to the need for contactless services, the accelerated digitalisation of operations, and the rise of digital business models," said Hilili.
Hilili believes that all these predictions represent huge opportunities for the channel to generate new revenue streams, and he added that he firmly believes their 360 framework gives them the autonomy to be proactive in terms of innovation.
"The predictions are looking very positive, and we can honestly say that the Middle East region has maintained resilience in IT spending. There are so many opportunities lying ahead and the channel will need to be proactive and expand their existing portfolio of solutions to react to changing end-customer needs. Our new channel framework Lenovo 360 offers channel partners the flexibility and breadth of resources to sell across products and services to do just that," said Hilili.
Lenovo has identified services and solutions as a key focus area for them, but talent acquisition and possessing the right skillsets remain a problem in terms of the channel having the competency to deliver everything as-a-service, but according to Hilili, this is where the Lenovo 360 framework really demonstrates its power.
This is where Lenovo 360 shows its true value. With the new framework the channel will have direct access to global experts in as-a-service, and subject matter experts to build vertical-based solutions – and our programs will help partners sell or up-sell solutions and services. Through the new framework, partners will be able to sell and customise solutions with Lenovo's consolidated as-a-service offerings. We'll have experts who will work with directly our partners on building a complimentary service delivery model via the Lenovo 360 ecosystem. All this falls into our channel first strategy of working with and empowering the channel simultaneously. In essence the new framework encourages our channel partners to participate across the I.T. value chain from devices, infrastructure to services covering the breadth of Lenovo's portfolio," said Hilili.
In terms of what Lenovo's primary goals and priorities are when it comes to enabling and empowering the channel, the Lenovo General Manager for Intelligent Devices Group stressed that hardware was high on its list of priorities.
"In the Middle East our device and hardware offerings remain a focus for us. However, infrastructure solutions and services are rapidly growing areas of our business. Our key priority here is to ensure that our channel partner network is engaged, educated, and empowered to truly enable them to sell across the entire Lenovo portfolio to meet specific customer needs, be it in providing devices, infrastructure, or services. With the opportunities arising in the market from services and solutions our channel partners, who only sell devices at the moment for instance can now expand their portfolio by adding infrastructure solutions and attached services to help them tap into the growing opportunities in the services and infrastructure market," said Hilili.
Hilili concluded a wonderful interview by reinforcing his belief that their new Lenovo 360 framework can really empower the channel and enable them to engage with customers at a much deeper level.
"We see Lenovo 360 paving the future of the channel moving away from traditional features and cost drivers, and towards a solutions-based approach. The framework unleashes partner potential to grow their business and engage customers on a deeper level," said Hilili.