CNME Editor Mark Forker spoke to Shady Youssef, Managing Director, Leviton Middle East, to find out how their diverse portfolio of products and solutions are meeting the increased demand from enterprises for cutting-edge datacenter technology solutions in the new digital economy.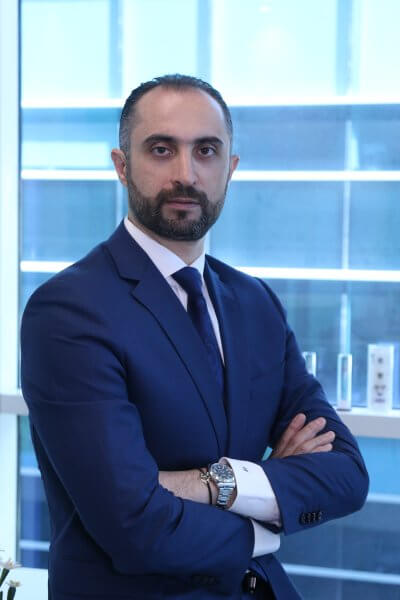 Shady Youssef is one of the most decorated and distinguished IT leaders in the Middle East, and in a compelling interview he discusses the trends driving changes in the datacenter ecosystem, the exponential increase in connected devices – and how Leviton's products are ensuring they remain a market leader.
It has been well documented how the pandemic has accelerated and driven the demand for larger datacenters in the current digital economy we are immersed in.
Youssef highlighted how they have witnessed an increase in the adoption of online entertainment services at home and connected IoT devices, which has rather inevitably led to this exponential growth in data needs.
According to the Managing Director at Leviton, there has been a particularly rapid growth in the Middle East, but claimed Leviton are very well positioned and poised to cope with that growth.
"If we take a closer look at how things are changing then a perfect illustration of that is the fact there is 7.2 billion people on the planet, however, in 2020, there was 50 billion IoT devices connected to networks, now that's an incredible example of how connected our society has become. As individuals, we all have a smartphone, a tablet at home, and a wearable device and what all these devices have in common is a hunger for bandwidth and our solutions have got the ability to meet these bandwidth demands," said Youssef.
Youssef added that in relation to trends, they have seen the emergence of a lot of edge datacenters and that has been driven by 5G, IoT and online gaming in addition to Hyper Scale datacenters.
"In 2022, the estimated IP traffic is around 20+ zeta bytes, which really is astronomical, and it is the reason why there is so much demand for more datacenters, not only in the Middle East, but across the world," said Youssef.
Driving innovation has been in the DNA of Leviton ever since its inception all the way back in 1906, and it continues to be an industry leader. A good example of that has been its leadership in the datacenter space with the evolution of its Category 8 Copper and industry first Single 24 Fiber MTP Connectivity Solutions.
"We were the first company in the industry to have an end-to-end RJ45 category 8 platform approved. Category 8 is specifically designed for datacenters delivering 25/40G Over Copper where the distances between switches and servers are short, and it is essentially an end-to-end solution for datacenters. We were also the first company in the world to have 24 fiber in a single connector, and what that means for our clients is it gives them the ability to migrate from 10G to 40G and 100G which maximizes their return on investment," said Youssef.
Interestingly, Youssef said that a key component for success in the datacenter industry isn't limited only to the product, stressing that vendor capacity to support scalable design and solutions.
"What is important in the datacenter ecosystem today is not the product only, of course the product is important, but the capacity of the vendor to bring scalable solutions is critical. Leviton's capacity is not just products, we are a huge manufacturer, and we have in-house expertise to understand the customer needs and we are able to tailor the right solution specific for them," said Youssef.
Youssef outlined the impact of its e2XHD solution and said that its ability to give customers flexibility was a gamechanger.
"The e2XHD is a hybrid datacenter platform for fast deployment, so it is like a plug and play solution where everything comes from the factory, and it gives you the possibility to put both fiber and copper on the same chassis. It reduces space and the more you can put in the datacenter enables you to get more clients in terms of co-location, which in turn generates more revenue for your company. Flexibility is so important as scalability that it provides for end-users," said Youssef.
The Managing Director of Leviton Middle East then turned his attentions to their Zone Cabling and white patch panel technologies.
"We launched Zone Cabling technology in 2003, but what was missing is the adoption. Zone cables have been designed specifically for the challenges in the data center environment by being smaller and lighter than equivalent conventional cables. Zone cables support 10 Gigabit Ethernet (up to 65 meter permanent link), Power over Ethernet, voice, and broadband video transmissions at frequencies up to 500MHz.As we continue to share our expertise and application driven solutions, we have recently seen an increased demand for zone cables. With everyone aligning to Sustainability and Green Initiatives, white panels are gaining traction in the datacenter and that is part of Leviton product portfolio," said Youssef.
In terms of its success during the pandemic, Youssef credits a motivated and driven team as a key element in its continued market success across the Middle East.
"At Leviton, we evaluate success both internally and externally, but when you see that your company is well positioned to grow, and your team is energized and going the extra mile to ensure success then that is a key metric of success to us. We really succeeded during the pandemic in terms of delivering major critical infrastructure projects in industry verticals such as healthcare and banking, achieved amidst the backdrop of a volatile and unpredictable climate caused by the COVID19 pandemic. This was a huge achievement for us, and we are looking forward to 2022 with great hope and optimism," said Youssef.