CNME Editor Mark Forker spoke to Anas Jwaied, Managing Director, Middle East & Africa, at Micro Focus, to learn how the software company is leveraging its diverse product portfolio to ensure 'business continuity' following the widespread chaos and disruption caused by the global COVID-19 pandemic.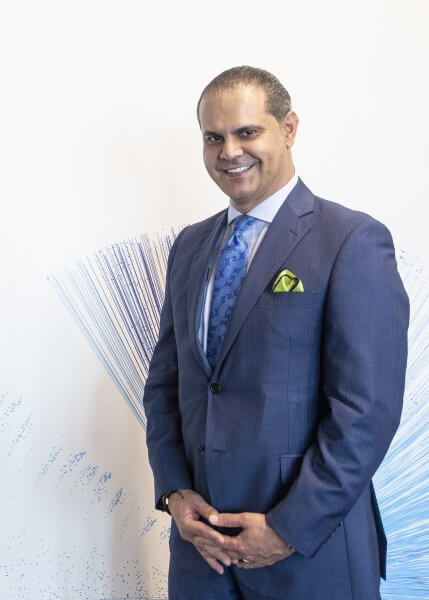 COVID-19 has wreaked havoc on global supply chains, grounded flights and forced many businesses to completely shut down its operations.  
That has rather inevitably triggered a seismic shock to the global economy and the economic ramifications of COVID-19 may be the worst that we've ever experienced in our lifetime.  
However, there are many companies leading the fightback and striving to ensure businesses remain operational in these unprecedented times, and one of them is Micro Focus. 
Micro Focus is one of the biggest pure-play software companies in the world and is the biggest in IT operations management. It serves 40,000 customers globally and has really positioned itself as an agent of digital transformation.  
Its ability to deliver speed, agility, security and insights that are necessary to succeed in an evolving marketplace really differentiates Micro Focus from its market competitors.  
Under the visionary leadership of Jwaied, the IT leader has really positioned itself as the go-to player for businesses in the Middle East that need assistance in terms of maintaining business continuity amidst COVID-19.  
Its comprehensive portfolio is equipping enterprises with the tools they need to ensure that they can maintain their day-to-day business operations.  
Jwaied explains that Micro Focus has always been a customer-centric company – and declared that it is striving to ensure they help all its customers overcome these new challenges presented by COVID-19.  
"The global coronavirus COVID-19 global pandemic is affecting every aspect of our lives, from how we work to how we conduct our daily lives at home with our families. Micro Focus is standing firm in our company values, in putting customers first, in teaming and working together for the best outcomes, in deciding and acting in a way that makes an impact, and in learning and adapting so that we can help our employees and customers adjust to this new way of life," said Jwaied.
As businesses transition to allow their employees to work remotely, Micro Focus is making it easy for organizations to ensure continuity of service to their customers, by offering tailored packages that are specifically designed to help businesses and their teams.  
One of the solutions Micro Focus is promoting as part of their efforts to empower businesses is its Adoption Readiness Tool (ART).  
According to the Managing Director at Micro Focus, this training solution will ultimately allow businesses to help prepare their staff to be able to cope with new challenges and demands. 
"We know that software only solves part of the problem, to truly mobilise teams for the new normal, training and enablement are critical. The Adoption Readiness Tool (ART) training solutions will help teams transition to new ways of working. ART enables businesses to rapidly generate their own custom onboarding content and launch virtual training with simulation based hands-on exercises and video's, on any topic required, in a simple and fast way," said Jwaied.  
One of the biggest challenges for many enterprises has been the task of transitioning their employees from the compounds of a traditional office environment to a new virtual workplace. However, once again Micro Focus is on hand to address many of the security concerns that businesses would have.  
As employees move to working remotely, they need secure access to the data and systems required for their job. To help with this challenge, Micro Focus are providing an unlimited edition of NetIQ Advanced Authentication that offers multi-factor authentication for your users.  
In addition to this, many employees working from home may well be using unsecured e-mail systems. Micro Focus is helping to ensure your employees e-mail are secure during these unprecedented times by dispensing their Voltage SecureMail solution which provides internal and external encryption from the originator to the intended recipient.  
"We are acutely aware that many of our customers have many employees working from home at this time and they need to collaborate virtually to ensure business continuity. One of the major challenges for businesses is keeping their assets secure and protected in this remote environment, and NetIQ Advanced Authentication and Voltage SecureMail provide robust security frameworks that allows enterprises to ultimately focus on their own business objectives and not have to worry if they are secure or not," said Jwaied.  
One other major issue for businesses is connectivity. Traffic patterns and hotspots have switched from business districts into suburban areas and the base stations in those areas are simply not optimized to manage the exponential growth of traffic in these areas.  
Many employees need to use network intensive applications to effectively do their job, but latency, bandwidth and network performance problems have thus far plagued major enterprises and SMEs.  
Micro Focus is again leveraging its phenomenal product portfolio to assist businesses encountering network performance and latency problems by ensuring scalability of their critical internal and external applications through its LoadRunner licenses.  
"As more and more employees and customers are forced to work remotely due to the spread of COVID-19, ensuring the scalability of businesses internal and external apps is critical to handle the unprecedented influx of online traffic. We're here to help by making it easier for them to identify any performance issues that may arise, and ultimately ensure continuity of service. To enable businesses to quickly find defects and pinpoint root-cause in real time, effective immediately, which we will provide you free-of-charge," said Jwaied.  
One other consequence of the COVID-19 pandemic has been the evolution of data backup practices. A lot of SMB & Mid-Market customers have to backup data locally, and due to the lockdown can not leave their homes to change tapes or vault them.  
As a result of this many of these customers are looking to adopt native cloud options as an archive during this period hence. Micro Focus can showcase their product capability of native integration with its Micro Focus backup solution in which they've partnered with well-known public cloud providers to produce.  
"Our Micro Focus Enterprise Service Management solution can be used by existing or new customers. The solution is a dedicated crisis management application that can be fused together without any single line of code to provide logistics and visibility on working remotely and service requests related to the crisis. The overall data coupled with external data if desired can also be presented on Business Value Dashboards," said Jwaied.  
As aforementioned above Micro Focus is a global technology leader and its cutting-edge innovations and solutions have transformed companies all over the world. However, it has recognized that people turn to the company for inspiration in times of crisis and it has duly responded with its comprehensive business continuity plans (BCP) which has been tailored to tackle a wide range of issues.  
"As we all deal with the unprecedented world event that is the spread of COVID-19, we know that like us, customers will be enacting their Business Continuity Plans (BCP) and readjusting those plans to accommodate the evolving situation. We know that time sensitive and unimpeded access to technical experts to bolster your readiness capabilities is critical.  We want businesses to know that Micro Focus is here to partner with them through these times and we want to help provide them with the easiest access to resources so they can ensure the successful implementation of their BCP," said Jwaied.  
In order to be able to respond to businesses that require help during these times, Micro Focus have put together a series of packaged offerings that are specifically designed to be rapidly deployed to help customers do everything from temporarily supplementing staff in the case of regular team members being out through to providing 24×7 solution support in case of emergency.  
"We have adapted our offering to be delivered fully remotely and can accommodate your security requirements with US or local-based resources or leverage our global center of excellence," said Jwaied.