Toufic Derbass, MEA Managing Director at Micro Focus, tells CNME how the company's cutting-edge Service Management Automation X (SMAX) platform leverages AI to provide the best experience to the customer as they adapt to a digitally transforming business ecosystem.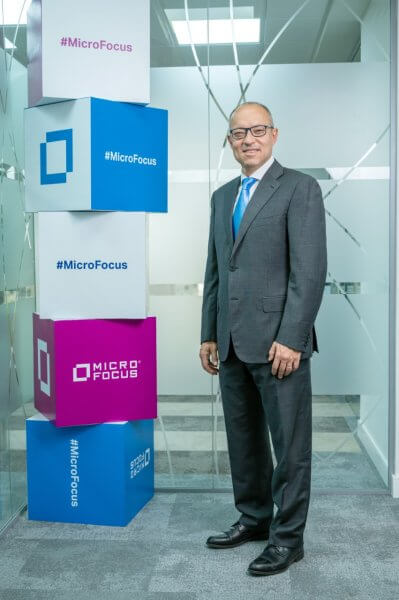 What is Micro Focus's approach towards Enterprise Service Management (ESM) and the evolution of the service desk? 
Today, companies of all sizes are focusing on innovation by not only adopting new technologies, but also by rethinking how they've traditionally approached delivery of goods and services to their customers and employees.
Therefore, it isn't surprising that one of the top priorities of CIOs, based on multiple surveys, is to "delight" the customer and employees, that consume IT services.
Customers refer not only to the commercial ones but also to those employees that consume IT services. On the same list of CIOs priorities, we can also always find service management across the entire enterprise.
CIOs must improve, support and deliver services in ways that transform their business. So, we speak here not about a commoditised service desk but about transformational service management, and this is what Enterprise Service Management is about.
In this context– three main trends in service management that can help CIOs succeed at their objectives are:
Focusing on enterprise services, just not IT services.
Delivering better, more immersive IT experiences to delight everyone.
Utilising AI & automation to improve service delivery and experiences.
These are the three guiding principles for us at Micro Focus when designing our service management platform and the content.
What are the essential capabilities that are mandatory in an ESM platform?  
AnA modern and effective ESM platform must be equipped with modular content. For example, our platform is SMAX, which stands for Service Management Automation X.
It comes with content including applications for ITSM (implementing the best practices from ITIL v4), non-IT service management like HR support request management, IT asset management, and hybrid cloud management.
It comes with content, or applications for ITSM, non-IT service management, IT asset management, and hybrid cloud management. The platform has an embedded foundation consisting of discovery, CMDB and automation and orchestration software.
An ESM platform should deliver the following values:
Superior service experience by powering self-service with AI, extending service desk reach to become an enterprise-wide service desk, and intelligent collaboration
Optimised IT productivity by configuring without code, fulfilling requests faster with the help of AI, and automating anything, including cloud service provisioning.
Cost control and raised resiliency by removing unpredictable costs, driving successful changes, and governing IT assets
Deployment flexibility: on-premise, cloud and SaaS, to be aligned to the customer cloud strategy.
You want to help your employees get back to work faster, and here AI-based capabilities help, such as search, ticket creation and conversational virtual agents.
Then again, you'd want to transform your service management into a fast and flexible operation through codeless workflows, enterprise-wide automation, and fulfilling requests faster with AI. But there's more.
You should be able to connect your service management workflows with powerful orchestration. From our single platform, you can provision hybrid cloud services. Even difficult to automate manual processes can be handled by RPA robots that mimic screen-based human actions.
How are Micro Focus customers leveraging and benefiting from Micro Focus SMAX? 
We have customers ranging from Small, Medium and Enterprises level, using our services.
What's common for all of them is the time to value by adopting our codeless way of working, the embedded AI-powered automation,  superior user experience, and the deployment flexibility from on-premises, cloud, or SaaS, to we help them improve their maturity and be aligned to their cloud strategy.
We have customers ranging from Small, Medium and Enterprises level, using our services. What's common for all of them is that by adopting our codeless way of working, AI-powered automation and superior user experience, we help them improve their maturity.
For many of them, SMAX was the first AI-based system in IT. It was a safe environment to experiment and become familiar with machine learning and analytics capabilities. SMAX has embedded AI, so it is not possible to use SMAX without AI.
Without exception, our customers report that they were able to increase the usage of the service desk and the self-service portal.
At the same time, the volume of tickets decreased. Our customers also report that they were able to expand the influence of enterprise footprint with Micro Focus SMAX because of its entirely codeless platform.
Many customers developed codeless applications for different use cases and automated processes in HR, payroll, facilities and other business units. This helped digitise the "back offices".
Our SaaS customers appreciate the fact that they are always up-to-date with the latest release and that with the basic licensce they get 50 license units of Universal Discovery and two Operations Orchestration (OO) workflows.
The simple and transparent licensing without any hidden costs is also something all of our customers love about Micro Focus SMAX.
They get the most of enterprise service management capabilities with basic SMAX licence, such as all ITSM workflows, native CMDB and studio for configuring codeless workflows, HR service management content with 35 HR-specific workflows and mobile applications for employees and field support engineers.