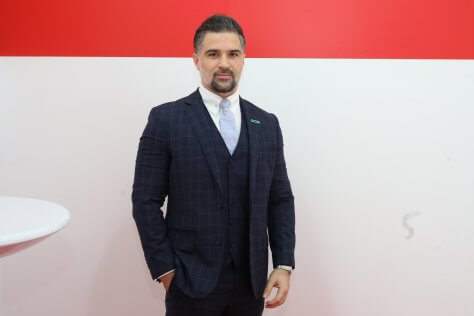 Hani Ajouz, Channel Services Manager for the Middle East at HPE discusses how the IT leader's partners can benefit from HPE GreenLake and Pointnext Services.
HPE GreenLake now has about $2.8 billion under contract and it's the fastest growing solution in your portfolio. How does HPE GreenLake's unique approach to IT consumption benefit your partners?
Our partners are excited about GreenLake consumption model as much as we are. One of the key drivers for HPE and our partners is that we have our strategies and focus areas aligned. GreenLake, being the future of services, is a unique model as you mentioned, and our partners are benefiting by being able to address the customer's needs with the technology change. GreenLake, being the first and most comprehensive consumption on premise model in the market, helps our partners offer a complete solution to our customers with the option to add their own value-added services. Moreover, it's a long term association with the customers while helping them to achieve more with less investment.
In today's digital economy, speed is of the essence to succeed. How does HPE Pointnext Services help your partners with their end customers to accelerate their digital transformation journey?
Our wide portfolio in Pointnext services that varies from support services, education services, customisable SLA's to meet different customers IT & business needs, consultancy services and of course GreenLake consumption model enables us to work closely with our services partners to help customers accelerate their digital transformation journey. For instance, with on premise consumption model customer can have multiple projects with less investment and be compliant to the local security policy. We also help our customers, along with our partners, in defining their long term IT and business strategies via HPE global expert teams.
HPE offers its partners an array of services and support to make sure they succeed – what ultimately differentiates your strategy in the channel from your competitors?
We work closely with our partners on joined business plans to accelerate their revenue, maximise efficiency and meet common objectives. We also emphasise on partner enablement and market readiness programs from sales, delivery and marketing perspective. We invest with our partners on customer events and workshops. I would also add that our support portfolio which is comprehensive and differentiates HPE from any other competitor in the market today. We truly believe in complimenting the partner's services with various programs, cases studies and associated benefits. Moreover, we have a central repository which all our partners have access to, to develop themselves and present to our end customers effortlessly.
HPE has announced it plans to deliver its entire portfolio as a service by 2022. How will this decision affect your partners?
Indeed, our CEO's strategy is to have everything to be delivered as a service by 2022, this decision will help us and our partners adjust to market changes faster, to be there at the right time offering the right solutions to our customers. The market is shifting from traditional IT models – it's going more into cloud services and consumption services. GreenLake is a cloud-like experience on premise which fits perfectly in the transformation journey of our customers. In today's fast-paced environment, HPE's strategy and offerings is what differentiates us. We believe that in the hybrid IT world, being at business speed means overcoming IT complexity to match the speed of actions to the speed of opportunities, deploying the right technology to respond quickly to market possibilities, and designing your digital transformation with expert IT consultation services.
Finally, can you tell us more about your role as Channel Services Manager at HPE?
As a Channel Services Manager for the Middle East, my role keeps evolving. It started as a Channel services manager for the support division only, then we added the consulting services to the portfolio and most recently, Pointnext services which makes it quite interesting for me and my partners especially with the GreenLake model being part of it. Apart from that, I strongly believe in the channel as the way to grow the business. Working closely with the partners, managing the services channel eco-system, empowering, enabling partners and aligning our strategies definitely make my role much more exciting and always motivates me to do more. My partners are HPE's extended arm in the market, so one of the key criteria for any channel role is to make sure that we and our partners have the same strategies and the same focus areas.