CNME Editor Mark Forker spoke to Mohamed Saieed, CEO of Potensia Systems, to hear how the Egyptian technologist and entrepreneur showed resilience and courage in the face of adversity to build an exciting new company that is transforming traditional functions by harnessing the power of AI.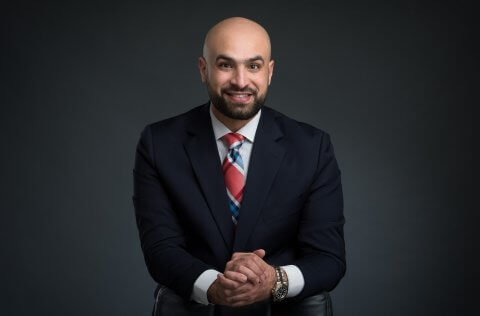 Mohamed Saieed has enjoyed a remarkable life thus far, a rollercoaster of a journey that has taken several sharp twists and turns.
What has remained an ever-present component in his make-up has been a passion for entrepreneurship.
Despite some significant setbacks during his storied career, Saieed has always bounced back, and has shown remarkable fortitude and resilience to be in the position he is today.
Today, he is the CEO of Potensia Systems, a system integrator, that designs and deploys industry-specific technologies to streamline business operations through a portfolio of solutions, managed services and consultancy.
However, to get a better understanding of Mohamed Saieed, you need to go back to the start.
This story begins in Egypt in the 1980s, and from a young age, Saieed had a passion from technology, one that was inspired by his father, who recognised that computers represented the dawn of a new industrial revolution.
"My interest in technology came at a very young age, primarily because my father recognised that computers represented the future. I got my first computer when I was 7 years-old in 1989, and from that point on I was hooked. I developed a reputation within my family and in my community for being the 'tech guy' – and people regularly consulted me prior to purchasing a computer. I was obsessed with technology," said Saieed.
Fast-forward to 1999, and the ambitious Saieed had reached the stage where he wanted to convert his passion into a career, confident in his ability to capitalise on the burgeoning opportunities that were emerging at the time of the .com bubble in the mid-to-late 90s.
"I organised a meeting with the Head of Telecommunications in Egypt back in 1999. I told them that I wanted to purchase a portion of the traffic on internet because quite frankly they didn't know how to use it effectively. I wanted to buy a portion of traffic in order to distribute it effectively across 3 states within Egypt, and incredibly within a couple of months I had made my first million. I had made my first million before I was 21, so I wasn't actually eligible to open a bank account, so I decided to start investing the money into different areas, mostly property," said Saieed.
It was during that particular success that Saieed came to the conclusion that in addition to his passion for technology, he also had got the bug for free market capitalism and wanted to make money, and make it fast.
However, despite the incredible success he enjoyed initially, he was about to be brought back down to earth with a bang.
"It had become very evident that by that stage in my career I had developed what they say in America as 'entrepreneurial spirit' – and I started purchasing domain names at the time, which was very profitable at the time. I decided to move to Dubai in 2005, because it was booming and it really was the place to be. I established a company in Dubai, but I lost everything and was brought back to reality with a major bump. I didn't understand the culture, I didn't know that many people, and it was no surprise really that the business wasn't a success," said Saieed.
His financial misfortune was not an isolated or uncommon incident at the time, because his business crashed around the same time of the global economic crash of 2008, the bubble had burst for Saieed and many of his contemporaries.
However, as the old adage goes, 'when the going gets tough, the tough get going' – and Saieed showed he could be resourceful in the face of extreme adversity.
"I had no money in my bank account, but I had a family and a daughter to support, so it was an extremely difficult time, and I didn't know what to do. I discovered that I had a passion for photography, so I went to events, and I hustled hard. I had an understanding of the emerging technologies at the time, such as photoshop and that really helped me become relatively successful and allow to get back in the game," said Saieed.
Saieed enjoyed reasonable success from his photography business and other investments, but the big turning point in his life came when he established Potensia Systems in 2017.
"I analysed the market needs, and I could se there was a gap in the market for what we provide at Potensia Systems, and that's why after I launched the company, I then started to narrow my focus on AI, because like my father all those years ago, I could see that AI was where the future was headed. We started as a systems integrator that was focused on security, we focused on both physical and cyber security, and we did an excellent job. But as I said at that time, internally we were really focusing our attention on AI. We then entered into an agreement with NVIDIA globally, which was just huge for us, because they are the backbone of AI," said Saieed.
The partnership with NVIDIA and the success of their day-to-day business ensured Potensia grew rapidly, but in another indication of Saieed's unrelenting quench for innovation, he developed another AI platform during the COVID-19 pandemic.
"During COVID, I developed the first AI-platform for digital marketing that was specialised in food delivery. I collaborated with Talabat, Uber Eats and Deliveroo in a bid to generate all the data out there in order to be able to target audiences based on their individual preferences. I then sold this platform to one of the biggest delivery companies in the world – and I used that money to really invest in Potensia Systems, which helped drive the continued success of the enterprise," said Saieed.
The next evolution for Potensia Systems was the development of an AI-platform that was specifically designed for investors.
"It was essentially for investors that were looking for investment opportunities in the Middle East, with a particular focus on Dubai. Dubai has become the land of opportunity, it has no tax, a great lifestyle, and there is just so much potential here. However, when you don't know the culture then you can take unnecessary risks, there is a risk to everything, but with the right guidance on your investment you can easily triple your investment. Our solution can help investors customise a profile for themselves and help them better understand the unique intricacies of the marketplace here in the UAE," said Saieed.
The majority of investment from overseas is typically directed into real estate, but as Saieed explains their scope is broad.
"For example, take the agriculture sector, we can generate decades of data from that industry to help you make a better-informed investment on the opportunities that exist. You can tell us the markets your interested in, and what your expectations are and then we can create a customised portfolio for you. In addition to this, there are also opportunities for you to become a licensed investor in Dubai by using our platform, so we provide an array of opportunities for investors that reside outside of the UAE," said Saieed.
The dynamic CEO of Potensia Systems concluded a wonderful conversation by highlighting their unique partnership on high-performance compute with global ICT vendor Huawei, which he believes will help them scale the AI investment tool across the Middle East region.
"We've signed a deal with the Saudi government to roll out the same program there as we do in the UAE. We've partnered with Huawei on HPU (high-performance compute) that will help us to power this application. The database we got from the UAE government from the last 20 years is just enormous, so you can imagine the compute power we need to manage all this data across our application. However, we're confident that we can continue to scale and grow, and our partnerships with industry leaders like NVIDIA and Huawei only solidify our own growing reputation in AI and managed services in IT and technology," concluded Saieed.