CNME Editor Mark Forker managed to secure an exclusive interview with Ellis Wang, Group Head of Technology, at Mashreq Bank, in an effort to find out how the banking institution has coped with COVID-19, maintained business continuity – and what the future of the financial ecosystem will look like.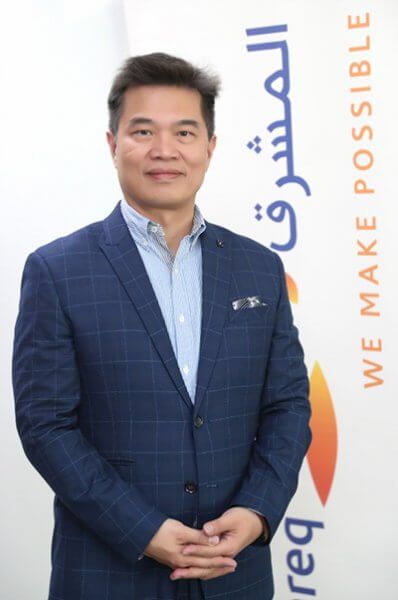 Mashreq Bank has positioned itself as a real leader in the banking sector terms of embracing new technologies in an effort to enhance the services it provides to its customers. Wang was appointed as Group Head of Technology in 2019 – and was tasked with the responsibility of driving its digital transformation objectives.
COVID-19 has disrupted every industry on a global scale, and the banking and financial services sector hasn't been immune to the disruption. However, as Wang points out, those that had resisted digital transformation faced huge challenges once lockdown came into effect.
"The COVID-19 outbreak came as a big surprise to everyone, but those who hadn't transitioned towards the cloud, or embraced digitalisation faced gigantic challenges. The first task for every enterprise was of course 'business continuity' – and we witnessed this scramble from enterprises in a bid to keep the lights on," said Wang.
Wang emphasised the importance of banks maintaining its operations during lockdown – and outlined the measures they took to ensure their customers avoided any disruption.
"It was absolutely critical that banks continued their operations, as people obviously need access to their money, so we had to ensure our ATMs were operating, and our mobile applications and online banking systems were working. Our primary objective and goal during the crisis was to avoid any interruption, disruption or surprise to the range of services we provide our customers," said Wang.
Banks faced the same challenges as other industries across the board, which was ultimately trying to establish how they could allow their employees to work remotely in an effective, efficient and secure way.
"The challenge for us was the same for other businesses in different sectors, and that was of course ensuring that our employees could work effectively from home. For security reasons banks obviously centralise their operations. However, due to the COVID-19 pandemic, employees had to work remotely, but how can you support this centralised working model in an efficient and secure way? In this sort of scenario, how can you ensure end-to-end security can be operated efficiently without any delays? This was without doubt the most difficult challenge all banks faced due to the security complexities involved," said Wang.
Wang has enjoyed a distinguished career in the financial services industry – and has worked for some major corporations in both China and the US, before moving to the Middle East. He said that there has been a completely overhaul in how the banking sector functions due to advancements in technologies like AI and Big Data.
"There has been an upside-down change in terms of the way the banking industry operates. We have driven digital transformation at Mashreq Bank, but the question we asked ourselves was, how do you ensure your client receives the same financial service when they stop coming to physical branches? We believe that our customers get the same service they got when they visited counters in the bank, or an even enhanced more seamless one by using their mobile application, or internet banking on their PC, but this transition represents an upside-down change for the banking sector," said Wang.
In terms of the technologies that have driven this seismic shift in the financial services and banking industry, Wang pointed to its partnership with Avaya and Koopid, which brought AI to the heart of their customer experience offering. The partnership brings Artificial Intelligence to the heart of the bank's self-service capabilities with the region's first digital engagement banking bot.
"The new system, which acts as a visual and conversational virtual assistant, enables Mashreq customers to access banking services and complete service requests almost entirely through an AI-powered 'agent'. The 'chatbot agent' can verify customers, complete transactions, and sign up for new services on the customer's behalf – from anywhere and through any device," said Wang.
The dynamic Mashreq Bank executive stressed that the reason they embraced AI technology was borne out of a desire to increase productivity in the bank.
"We moved to becoming a digital bank in an effort to increase the productivity and streamline the processes in the bank to deliver a better service to our customers. We leveraged the digital insights of the AI platform to do this. We use AI technology and the data to build the digital process to help the whole bank increase productivity, and we call that a digital insight. Digital insights and outsights are a must in order to support your business and help it become digitised," said Wang.