Finnish game developer Catland has announced the launch of a new game titled, The Spy Who Shrunk Me, as well as an undisclosed funding round from acclaimed game industry veterans.
Fresh on the heels of the 2017 sleeper hit virtual reality game Taphouse VR, Catland will for the first time release a game on both PC and VR.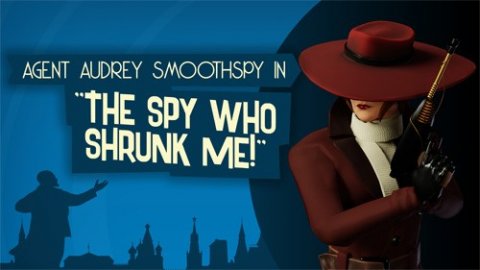 The gaming firm has successfully raised an undisclosed seed funding round to secure the development of insanely entertaining story driven single-player games.
Catland secured its seed funding round led by legendary Finnish game developers and investors Sisu Game Ventures (run by Remedy founder Samuli Syvähuoko), Jaakko Manninen (CTO of Vizor), Sami Vanhatalo (Remedy founder and Combo Breaker chairman) and Niko Punin (renowned entrepreneur and business angel).
"Catland proved they are a nimble, versatile and above all playful bunch of game developers with their amazingly fun Taphouse VR last year. I like their strategy of going after the larger PC market while still delivering a unique and eye-opening experience for VR," said Harri Manninen, Managing Director of Nordic XR Startups and first investor of Catland.
The spy who shrunk me
In this exciting stealth game, the player gets to be super agent Audrey Smoothspy armed with a shrink ray and a host of exotic and unusual spy gadgets – such as banana peel! Staying hidden from guards and traversing many exciting locales, the hero unravels a terrifying secret in 1980s Moscow which threatens to turn the Cold War into a fiery one.
The game features immersive first person stealth gameplay that blends scale-bending shrink ray mechanics, tongue-in-cheek humour and a hilarious 80s aesthetic. Go crazy by shrinking enemies and dropping them down toilets or use stealth and subterfuge to get past enemies undetected. The game can be completed without harming a single soul.
Catland CEO Tomi Toikka said, "The Spy Who Shrunk Me is a tongue-in-cheek spy adventure, a love letter to spy movies, immersive simulations and other games in the stealth genre. Armed with a shrink ray, you can shrink and dip Soviet soldiers into paper shredders and make them run in a hamster wheel – or shrink yourself to get past opponents. Just don't get stomped."
The Spy Who Shrunk Me is slated to be released on Steam in 2018. The game includes both PC and VR versions for the same price and is fully playable in both modes with additional interactivity offered in the VR version. The game in VR requires motion controllers and room-scale setup to play, supporting the HTC Vive, Oculus Rift with Touch controllers and Microsoft Mixed Reality headsets.
The Spy Who Shrunk Me can be added to Steam Wishlist today to get all the latest updates on game development progress.