Khaled Charif, Director of Technology and Innovation at NXN shares his predictions for the next year and NXN's plans for 2020.
Which technologies will take centre stage in 2020?
There are always many trends, ever-changing, with a broad array of technology disciplines, it's a very busy and dynamic technology landscape; so, of course, we look at the Gartner's and IDC's here, as well as academic research, and where we talk about hybrid, or even distributed clouds (the next era of cloud computing), we also have increasingly more powerful edge- computing technologies coming into the light. The actual trend here is exploring the intersection of multiple technologies, the new and the relatively new – these intersections are even more promising than looking at individual technologies
in isolation. For example, looking at where and how AI, IoT, and edge- computing can intersect, essentially pushing Machine Learning capabilities into IoT edge devices, and moving from an internet of simple sensors and actuators, to and internet of intelligent, autonomous 'things' around us. We also have some technologies that are ready to jump from
early beginnings into practical applications and then further into mass adoption – an example is how Extended Reality, AR, VR becomes part of the multi-experience concept. For these jumps to happen, many pieces have to fall into place – in the case of AR, it is the ability to put together contextually relevant data in real time, push it to a single individual, or device, in real-time, and finally visualise it for consumption. Once we have that, then we can talk about 'everything-AR' – from simple wayfinding applications, to assisted learning, and all the way to decision-support applications.
How should organisations transform their strategies to cope with the new technological evolution of the next decade? What role can NXN play in this?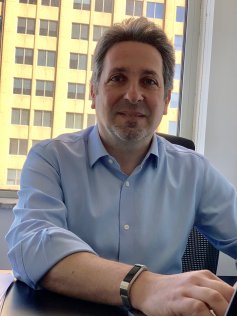 First of all, the ability to incubate nascent technologies needs to be tackled – incubation for the purpose of testing, validation,
and leveraging these technologies within a given context. That needs to be done in an effective way in terms of cost, time, and people – essentially finding a balance between over-investing into initiatives that do not materialise on one side, and falling behind the curve on the other. So what becomes important, is being able to introduce new technologies, integrate them into relevant use-cases, tap into the right sources of data, and do all of that in a gradual fashion – gradual, because within a given organisation, many things have to change around newly introduced technologies in order to help them flourish, in terms of policies, people, skill-sets, day-to-day operation, etc.
At NXN, we have been advocating the concept of 'Digital Platforms' for several years, these are the platforms that integrate relevant technologies within a customer's environment, inject new functional capabilities into the mix, tap into the cloud when and where it is applicable to do so, and serve as a launchpad for digital use-cases. We combine this concept of Digital Platforms with our Master-Planning, Technology, and Data Strategy engagement methodologies, to simplify and accelerate our customer's Digital Transformation journeys – from planning all the way to execution.
What is NXN's primary business objective for 2020?
From a technology perspective, our focus remains around bringing practical Digital Transformation to Cities & Districts, Governments, and select verticals – the emphasis on 'practical' here means following a use-case driven approach rather than a pure technology-driven one. The role of technology here is not undermined, on the contrary, it is emphasised, but within the context of projecting a multitude of candidate technologies onto a given customer's environment, and coming up with the right mix of technology enablers that are needed, and when and how they can be leveraged for impactful applications and use-cases.