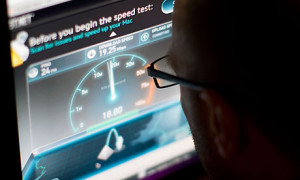 In the United States, Sprint and AT&T both unveiled new 4G coverage zones this week. The realm of 4G wireless networking continues to grow with each passing week, and for business users, it has matured from a luxury to a necessity.
Sprint finally introduced 4G/LTE coverage in New York (or at least part of NY) – obviously a major wireless market. Meanwhile, AT&T added 4G coverage in eight new regions, bringing AT&T 4G service to a total of 336 markets across the United States.
It wasn't that long ago that wireless providers first started rolling out the next-generation 4G networks. In just a couple of years, though, 4G/LTE networks have become the standard – at least in larger metropolitan areas – and for business users trying to get things done from mobile devices, 4G makes all the difference.
PCWorld conducted an extensive nationwide survey of wireless service last year. Verizon and Sprint yielded sad results on their CDMA-based 3G networks, with average download speeds of about 1Mbps for Verizon, and about half that for Sprint. AT&T and T-Mobile did much better thanks to their HSPA+ 3G networks service, which T-Mobile actually marketed as 4G even though it's not.
On the 4G side, AT&T came out on top with an average speed of over 9Mbps – about 3.5 times faster than its 3G average, and more than 15 times faster than the average 3G speed for Sprint. Across the board, though, the 4G networks are significantly faster than their 3G counterparts.
Does it really matter, though? Well, if you're just reading email, or doing a little Web surfing from your smartphone or tablet it might not make a difference. However, when it comes to actually getting productive work done from a mobile device, 4G is a significant improvement over 3G.
Time is money, and being able to work more efficiently gives users a strategic advantage over the competition. Consider a mobile user trying to download a 100MB client presentation to a tablet. Over a Verizon 3G connection it will take nearly 15 minutes, but over Verizon 4G/LTE the file can be downloaded in under two minutes.
Streaming audio content or video conferencing over 3G can be choppy or pixelated, but will flow smoothly over a strong 4G connection. Obviously, your performance will still vary depending on your wireless provider, and your proximity to the cell tower.
With mobile devices supplanting PCs as the primary computing device for many users, a 4G connection is no longer a luxury, it's a requirement. Eventually, we'll all be making the transition to 5G networks, but that's a few years off still. For now, 4G will have to do.