Abu Dhabi Global Market Courts (ADGM Courts) has announced the launch of the ADGM Courts ePortal.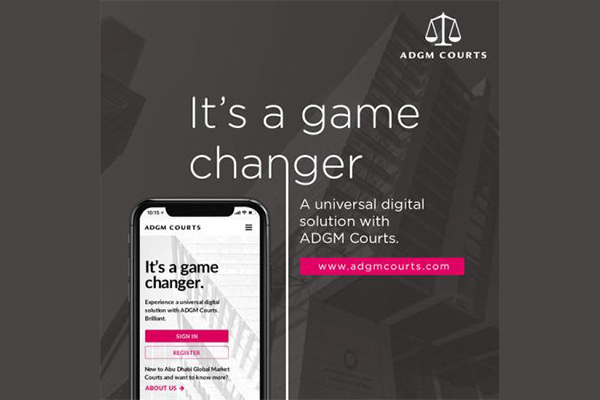 The eCourts platform, according to ADGM, revolutionises the delivery of civil and commercial judicial dispute-resolution services and transforms the way courts interact with litigants and the legal profession.
Developed in partnership with global technology corporation, Microsoft, the Integrated eCourt Platform provides a comprehensive, digital court record. Users can initiate, manage and monitor their cases 24-7, from anywhere in the world, through the device of their choosing.
Ahmed Ali Al Sayegh, Chairman of ADGM, said, "Technological advances in ADGM resonate with the digital transformation of Abu Dhabi's economy. We believe that the establishment of these end-to-end, unique, fully digital and mobile-enabled judicial resolution services is transformative. There will be no boundaries of time, location or efficiency in progressing cases before ADGM Courts; they are courts that truly serve the local and global investors, and business communities".
Through the new platform residents can file documents and receive SMS notifications pertaining to progress of their case and changes to the digital court file. Electronic evidence bundles are included in the court file at no additional cost to any party, and court hearings are conducted through video conferencing, accessed via an integrated calendar.
The eCourt Platform also provides a secure payment gateway for clients and lawyers, with immediate access to invoices and receipts, and instantaneous publication of orders and judgments on cases. Combined, the platform's features deliver a holistic judicial dispute-resolution service, resulting in substantial time and cost savings to litigants and their lawyers.
The platform is an end-to-end solution built on Microsoft's Azure cloud platform, incorporating elements of the company's industry-leading, smart commerce platform, Dynamics 365. This platform eliminates paper, and virtual trials and hearings via video conferencing reduces further costs.
ADGM Courts, supported by Microsoft, are continuing to implement digital solutions across all aspects of ADGM's dispute-resolution services. Both organisations are committed to the design and implementation of digital solutions that disrupt and revolutionise the way that such services are delivered.
Linda Fitz-Alan, Registrar and Chief Executive of ADGM Courts, said, "We have worked tirelessly to be innovative with our digital services, and to exceed the expectations of users. We consulted widely to understand the pinch points of the legal profession's interaction with courts, so that we could ensure a seamless experience with ADGM eCourts. At this point, I would like to extend our sincere thanks to the members of the profession who generously gave their time, thoughts and expertise to the development of this game-changing platform. We are excited to reach this milestone in our commitment to lead and drive unique digital dispute-resolution services."