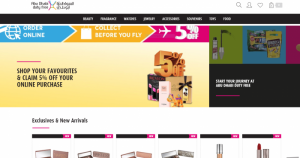 A year after its launch, Abu Dhabi Duty Free's online store, 'addf.ae' is gearing up for the busy summer season and stacking new products on its virtual shelves.
During Ramadan, the online store will also be offering shoppers a 10 percent discount on all items displayed in celebration of the holy month.
Designed to further enhance the passenger experience at Abu Dhabi International Airport, www.ADDF.ae enables travelers to browse, shop and pay online from the comfort of their homes and prior to their arrival to the airport.  The online store, which offers a vast variety of products from beauty and fragrances, food and confectionary, jewelry, souvenirs, toys as well as watches, allows passengers to select their desired items online, pay through the safe online payment gateway, and then pick them up from collection points inside Abu Dhabi Duty Free. Online orders can be made between two weeks and up to two hours before the flight.  With this service, passengers are able to shop more efficiently and thus spend more time enjoying the other facilities on offer at the airport.
For passengers who do not yet have a confirmed date of travel, but wish to save some items to their account, they may create a 'wishlist'. The 'wishlist' is accessible to registered users and will allow them to save their items for later and when they are ready to travel, or to send to their traveling loved ones.
Dan Cappell, acting chief commercial officer, Abu Dhabi Airports, said, "Abu Dhabi Duty Free's online store was launched last year as an initiative aimed at elevating the customer experience to a higher level, ensuring that we are always in sync with global shopping trends.
"Our virtual store allows us the flexibility to continuously develop our offers, and change or add new products, as per the changing aspirations and needs of our travelers. With the option to browse great promotions and discounts, shop and pay from the comfort of one's home or phone, and then collect at the airport, just before take-off, there is no excuse for not indulging in some serious travel shopping."